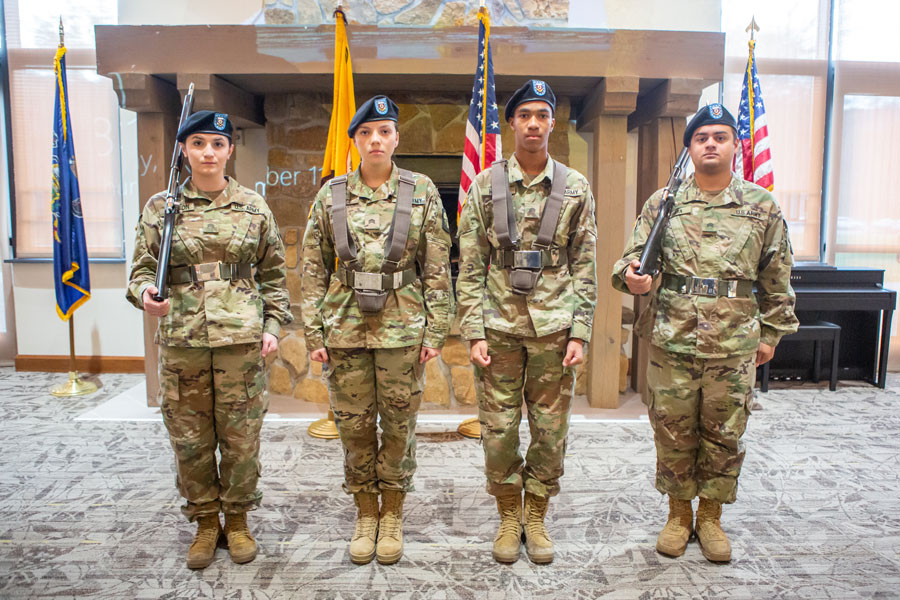 Why Army ROTC at Pitt-Bradford?
Cadets at Pitt-Bradford make up Bravo Company of the Seneca Battalion, the Army ROTC program based at St. Bonaventure University. Cadets attend classes and lab, conduct physical and tactical training, participate in military and school ceremonies, and host formal social functions. Our cadets are active in community service events and volunteering. Our color guard supports school and local events, and the Gold Bar Club plans and organizes various campus events and competitions.
You'll get a chance to excel. Our cadets receive exceptional one-on-one training not found in all ROTC programs.
Our cadets already know what it means to serve. Many take advantage of additional training and mentorship in the PA Army National Guard through the Simultaneous Membership Program.
ROTC at Pitt-Bradford is much more than a class, it's a way to go beyond. In addition to academic classes our cadets are leaders around campus, serve in the community and strive to be the best a student can be.
Scholarships are available for the ROTC program.
Thinking about joining our team? Contact our Enrollment Officer:
John W. Gordnier, GORDNIER@pitt.edu or use our request information form.
Content
The U.S. Army ROTC, Reserve Officer Training Corps, prepares students for service in the Army by building their leadership ability and tactical know how.
ROTC provides you the opportunity to study at a traditional college or university and receive a degree in a field you choose, while preparing you to lead the greatest Army in the world as a commissioned officer.
Military Science or ROTC is an elective based program that consists of two parts: basic and advanced.
The Basic Course
You can enroll in the basic course during your freshman and sophomore years. You earn two credits for each semester you enroll in the basic course program. There is no future commitment to the U.S. Army while you participate in the basic course program, unless you are a scholarship award recipient.
The Advanced Course
The Advanced Course takes the knowledge and skills you developed during your basic course and challenges you to use them. The advanced course is designed to push your leadership ability to the next level, while preparing you mentally and physically for life after college, as a second lieutenant in the U.S. Army.
How will ROTC benefit me?
As you progress through the program you will gain self-confidence, become more motivated and have more self-discipline. These characteristics will help you succeed in college and give you an edge in the job market after graduation. You also will gain the honor of serving the United States as a commissioned officer, either full time or part time, as you pursue a civil career after graduation. In addition there may be four- three- and two-year scholarships available to ROTC cadets. These scholarships pay 100% tuition, provide a generous stipend for books and a monthly tax-free stipend, ranging from $300 to $500.
What is my commitment to the Army?
You are under no obligation (classroom supplies and books are free) if you are enrolled in the basic course unless you receive an ROTC scholarship. Basic course classes allow you to take a look at the opportunities that becoming an officer offer without any obligation. However, once you become a junior and enter into the advanced course or you decide to accept an ROTC scholarship, you will have to serve as an officer in the Army Reserve, Army National Guard or on active duty.
What is an Army Officer?
An officer in the U.S. Army means you are a strategist, a counselor, a motivator and a leader. An officer is fully responsible for the welfare, training, and leadership of the men and women they are appointed to lead. Officers are problem-solvers, key influences and planners. They are driven to achieve success with their team on every mission. The role of an officer is comparable to that of a vital manager of a corporation.
If you would like to know more complete our request information form.
Content
What is ROTC?

ROTC stands for Reserve Officers Training Corps. ROTC is a leadership development program offered on campus that gives exceptional college students the opportunity to be commissioned as an officer in the United States Army.



Is there a service obligation?

No, not for the first two years of ROTC so you can see if service is the right path for you. 
If accepted into the junior year of the program, you will need to agree to serve as an Army officer in the regular Army or serve part-time in the Army Reserve or Army National Guard upon college graduation.



Does ROTC take up all of my time?

Absolutely not! ROTC balances leadership training with a normal college life. Our cadets are varsity athletes, leaders of clubs and overall exceptional students.



Can women join ROTC?

Yes. Women make up half of our cadets in the Pitt-Bradford ROTC program.



How and when can I join?

Register for military science (mils 101 or 102) like any other class at the start of the semester.
To become an Army officer, you must complete the junior- and senior-level courses.



What is military science?

Military science is the course of study that will prepare you to assume leadership roles both in and out of the military.
It's the study of Army leadership, management, planning and professionalism.
The curriculum mixes classroom instruction, hands-on application, summer training and internship opportunities.



Do I receive college credit for military science classes?

Yes. Army ROTC classes are electives that can be used toward general elective credits.



Does army ROTC award scholarships?

ROTC can award scholarships to competitive applicants. ROTC scholarships cover full tuition (or room and board) and books.
Content
If you're a nursing student, Army ROTC can give you a college experience unlike anything your peers will have. Army ROTC offers nursing students the opportunity to develop leadership skills while gaining real-life nursing experiences before and after graduation. As a nursing cadet you will be able to develop your skills as a nurse and a leader. ROTC combines your nursing studies and military science with an invaluable nurse summer training experience in order to hone your skills for success in both the Army and civilian sectors.
The benefits of being a nursing cadet:
Financial aid in the form of two-, three- or four-year scholarship that covers: 100% tuition, a $1,200 yearly book allowance, and a tax-free monthly stipend
A paid nursing Internship at a military hospital with the Army's Nurse Summer Training Program
The confidence you'll need to be successful at any future career
After graduation Army nurses enjoy:
Competitive pay rates, along with housing and basic cost-of-living allowances
Regular promotions and pay raises
Up 30 days of leave a year
Specialized training in ICU, preoperative, psychiatric and OB-GYN nursing
Additional scholarship opportunities for graduate-level nursing studies
Free medical and dental benefits
For more information, complete our Request More Information. You will be contacted by an Army officer who will discuss your career goals and suggest different opportunities ROTC has for you.
Content
Army ROTC offers several different scholarship and non-scholarship opportunities for enlisted personnel if you think you might want to become a second lieutenant during your college career. Whether you're currently enlisted and serving on active duty or a member of the National Guard or Reserve, there are plenty of options for you.
Simultaneous Membership Program
This is a volunteer officer training program to help enlisted members of the National Guard and Reserves obtain a commission as a second lieutenant while still serving with their unit. An SMP ROTC cadet conducts regular drills with his or her unit and also is a member of the ROTC program. Being a member of both the National Guard or Reserves and ROTC has a great set of benefits that any SMP soldier is eligible for.
Benefits for SMP soldiers:
E-5 pay for drill weeks and annual training
Non-deployable status while an SMP ROTC cadet
Hands-on leadership and management experience with an Army Reserve or National Guard unit
$350-$500 monthly ROTC stipend
$600 per-semester stipend to help cover books and classroom materials just like scholarship ROTC members
GI Bill® Chapter 1606
Eligible to apply for a Guaranteed Reserve Forces Duty scholarship
Opportunity to serve in active duty, Army Reserve or Army National Guard upon commissioning
Opportunity to qualify for air assault, airborne, and other Army specialty schools
State Educational Assistance Program (National Guard)
Federal Tuition Assistance
Green to Gold:
This program is designed for active duty soldiers who have demonstrated the talents and leadership skills necessary to become an Army Officer. Green to Gold allows these soldiers the opportunity to leave active duty in order to pursue both a bachelor's degree and a commission in the Army as a second lieutenant. Green to Gold soldiers can qualify for four-, three- and two-year scholarships with the same benefits as a cadet. Green to Gold soldiers may also qualify to keep their GI Bill® benefits and still receive their current pay and allowances, along with their normal PCS entitlements.
"GI Bill®" is a registered trademark of the U.S. Department of Veterans Affairs (VA). More information about education benefits offered by VA is available at the official U.S. government website at https://www.benefits.va.gov/gibill.
Each Green to Gold soldier will qualify for different entitlements based on their specific choices. An ROTC officer is willing to discuss your future in the Army, your goals and your options with you.
If you are interested in this program and other opportunities for enlisted Reserve and National Guard soldiers complete the information request form.