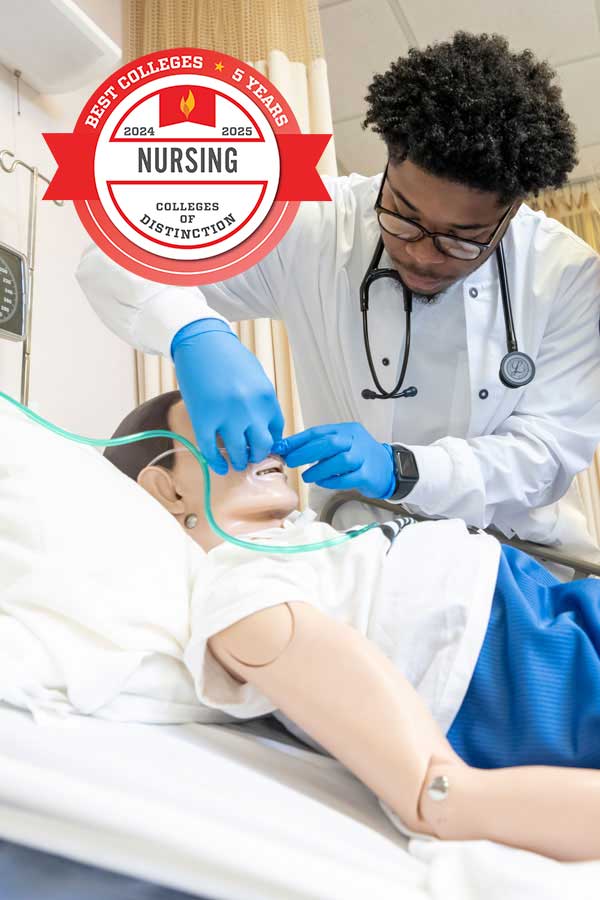 Nursing - AS
Provide and coordinate patient care and support them and their families.
WHY STUDY NURSING?
Nurses are in high demand. Employment of registered nurses is expected to grow 12% through 2028, which is much faster than the average for all occupations.  U.S. News & World Report ranked registered nurses 12th on the list of 100 Best Jobs in 2022. Demand will increase as our population ages. Nurses will also be needed to care for and educate patients with various chronic conditions such as arthritis, dementia, diabetes and obesity.
WHAT WILL I LEARN?
In our two-year program, you'll study in the classroom and combine technology in our simulation and learning skills labs to learn about a variety of nursing specialties, such as  medical-surgical, maternal-child, geriatric and psychiatric nursing. You'll also get hands-on experience, caring for patients at several of the health care facilities in the region, starting in the very first semester of the AS program.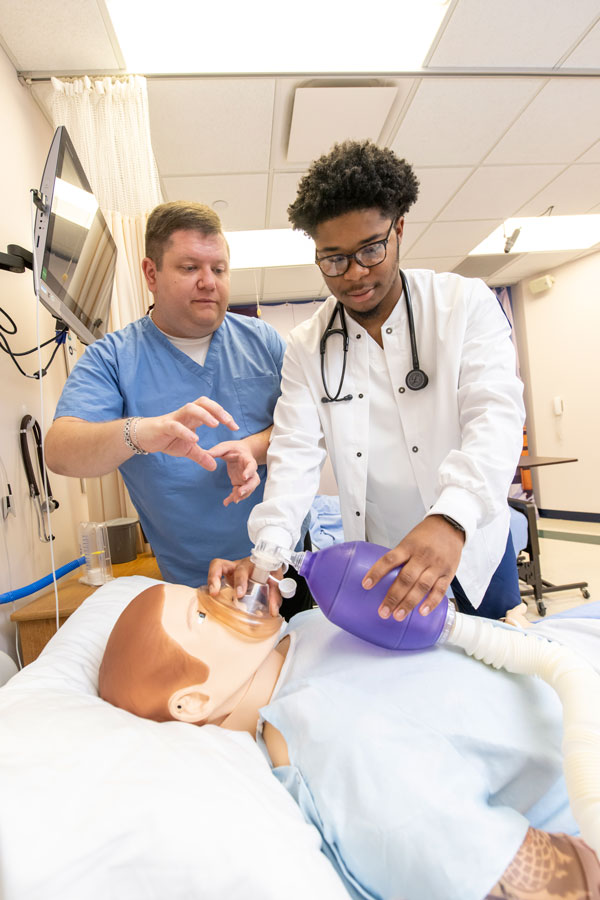 WHAT CAN I DO WITH A DEGREE IN NURSING?
Once you get your degree, you'll be ready to take the national exam to become a licensed, registered nurse. With your RN license, you'll be ready for one of the many nursing jobs available. You could work at a variety of hospital or healthcare settings. You can also go beyond to further your education and get your bachelor's, or master's degree as a nurse practitioner, clinical nurse specialist or educator in nursing.
Job titles:
Registered nurse
ICU nurse
ER nurse
Acute care nurse
Operating room nurse
Pediatric nurse
Employers:
Hospitals
Physicians' offices
Nursing homes
Hospice care
Home health care
Disability services
Nonprofit organizations
Featured Courses in This Program
NUR 0109

Course 1 Name

Clinical Calculations

Course 1 Description

This course uses metric, apothecary, and household systems of measurement with a ratio/proportion method to calculate and plan preparation and administration of medications for all ages. Included are critical thinking skills to ensure safety and accuracy in dosage calculations for medication administration.

NUR 0113

Course 2 Name

Pharmacology in Nursing

Course 2 Description

This course examines the complex world of pharmacology and therapeutics. It will address drug classes and the drugs represented by them. Each drug class will be discussed with regard to: absorption, distribution, metabolism and excretion; major pharmacologic side effects; clinical indications and administration; adverse reactions and contradictions; interactions with other drugs; overdoses and toxicities and nursing implications and interventions.

BIOL 0202

Course 3 Name

Microbiology for Allied Health Professionals

Course 3 Description

Principles of medical microbiology and immunology. Control of infectious disease and host-parasite relationships will be emphasized using a systemic approach to the study of infectious disease.

BIOL 0212

Course 4 Name

Human Anatomy and Physiology 1

Course 4 Description

A study of the gross and microscopic anatomy, physiology, and homeostatic mechanisms of the human body, stressing the relationship of structure to function. This semester covers cell types and tissues and the cellular processes of osmosis, diffusion, and active and passive transport; the integumentary system; the skeletal system and joints and bone metabolism; the muscular system and mechanisms of muscular contraction; the nervous system, mechanism of nerve impulse conduction, and the special and somatic senses. Three hours of lecture per week.
MORE TO KNOW:
Approval and Accreditation
The Associate of Science in Nursing program at the University of Pittsburgh at Bradford is fully accredited by the Accreditation Commission for Education in Nursing (ACEN) and holds provisional status with the Pennsylvania State Board of Nursing. 
Accreditation Commission for Education in Nursing (ACEN).
3390 Peachtree Road NE 
Suite 1400 Atlanta, GA 30326
(404) 975-5000
The most recent accreditation decision made by the ACEN Board of Commissioners for the associate of science in nursing program is Continuing Accreditation.
View the public information disclosed by the ACEN regarding this program at http://www.acenursing.com/accreditedprograms/programsearch.htm
Admission Requirements:
Annual fall admission to the nursing program is a competitive process and we look forward to your application.
Each year, we have limited seats available for students in the nursing major. Students admitted to our two-year program need to meet the requirements for admission to the university and the following additional requirements:
Successful completion of a minimum of 16 high school or beyond units including:
4 units in English
2 units in Mathematics (1 unit must be in Algebra)
3 units in Social Science
1 unit in Biology with a related laboratory
1 unit in Chemistry with a related laboratory
5 units academic electives
Prospective students will be admitted directly with a minimum cumulative high school grade point average of 2.75 and a minimum combined math and critical reading SAT score of 1110 (SAT tests taken March 2016 and later). If you take the ACT, your composite score must be at least 22. Students transferring from another college or university must have completed a minimum of 12 college-level credits with a minimum cumulative grade point average of 2.75. Students failing to meet these criteria may be admitted to a preparatory program.
All applicants must arrange for all information to be released and sent to the Office of Admissions before any admissions decision can be rendered.
Students must attain a minimum grade of "C" in all required nursing and science courses and a minimum grade of "C-" in all other required General Education and elective courses.
Applicants seeking admission to the AS-Nursing who are not currently enrolled at Pitt-Bradford, please contact the Admissions Office at 1-800-872-1787, send an e-mail to admissions@upb.pitt.edu or apply online.
STUDENTS WHO ARE ENROLLED at PITT BRADFORD and SEEKING ADMISSION TO THE AS-NURSING PROGRAM FOR FALL 2023:  Please complete the online electronic admission application. Questions can be directed to Laurie Dennis lbd4@pitt.edu.  The completed application is due no later than April 1, 2023, for fall term 2023. admission. This form is intended for current Pitt-Bradford students only.  
LPN-RN Option
In addition to the admission requirements, if you are a licensed practical nurse seeking admission to the program, you must be a graduate of a state-approved LPN program, provide evidence of a current LPN license, and submit two letters of recommendation from individuals familiar with your clinical work.
Advanced Standing for the LPN If you're an LPN and have been admitted to our associate degree program, you may be granted five credits in nursing by successfully completing the following requirements:
The National League for Nursing Acceleration Challenge Examination I Practical Nurse-Registered Nurse (NLN ACE I PN-RN) Foundations of Nursing
Nursing 0100 Transition Nursing for LPNs
ASN Fact Sheet  
More information about our program, curriculum, policies, and progression can be found within this document.  
Titusville location
The ASN program is available in Bradford and Titusville PA.
Licensure
Upon completion of the Associate of Science in Nursing program at Pitt Bradford and conferral of the degree, graduates may be eligible to take the national council licensure examination for registered nurses (NCLEX-RN). The NCLEX-RN is designed to test knowledge, skills and abilities essential to the safe and effective practice of nursing at the entry level. The NCLEX Examination Candidate Bulletin contains valuable information about the testing process.
Each state has their own eligibility requirements for licensure, which may include proof of degree conferral, clearance from criminal convictions, additional educational trainings, etc. Graduates are encouraged to contact the nursing regulatory body for the state in which they wish to be licensed to become familiar with their procedure and eligibility requirements.
Additional Information
The Programs in Nursing require that students complete clinical rotations, fieldwork, and/or teaching assignments at facilities external to the university.  Depending on the program or course, such facilities will or may require a criminal background check, an act 33/34 clearance (if applicable), and perhaps a drug screen to determine participant qualification or eligibility. Additionally, in order to become licensed, many states will inquire as to whether the applicant has been convicted of a misdemeanor, a felony, or a felonious or illegal act associated with alcohol and/or substance abuse.
With a student-faculty ratio of 10:1, our nursing students take an active part in the learning process.
The curriculum offers numerous opportunities for practical hands-on experiences, with clinical instruction provided at a variety of local and surrounding clinical agencies affiliating with the nursing program.
Bradford Manor
Bradford Ecumenical Home
The Pavilion at BRMC
Bradford Regional Medical Center
Penn Highlands DuBois
Penn Highlands Elk
Kane Lutheran Home        
Warren General Hospital  
Warren State Hospital
Bradford Recovery Systems
Dickinson Mental Health
Visiting Nurses' Association
UPMC Cole
UPMC Hamot
UPMC Kane
Pitt-Bradford's nursing professors did an excellent job of preparing me to enter the profession of nursing. Billijo Kriner '17, nurse at Penn Highland Hospital, St. Marys, PA