The Mathematics Center has moved online.
To make an appointment:
Make an appointment via Navigate Student
Directions: https://upb.pitt.edu/how-make-appointment
Prior to your appointment time, install Zoom from https://zoom.us/download
To sign in, select "Sign in with SSO"
Enter pitt.zoom.us
Sign in with your normal Pitt credentials
Your tutor will call you.
A camera and microphone are essential for success with online tutoring
Questions or Concerns? Contact: Hallie Kleiner, hlk16@pitt.edu
We are located in room 251 Hanley Library. The Math Center is open to all students enrolled in math courses at the University.
Our hours for tutoring:
Monday-Thursday: 8am-4pm
Friday: 8am-2pm
Some evening hours may also be available.
Our Staff:
Directory View
Director of Mathematics Center
Division of Physical and Computational Sciences
Email: hlk16@pitt.edu
Phone: 814-362-5120
Location: 251 Hanley Library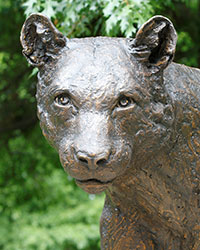 Adjunct Instructor of Mathematics
Division of Physical and Computational Sciences
Email: drw48@pitt.edu
Phone: 814-362-7575
Location: 103 Fisher Hall