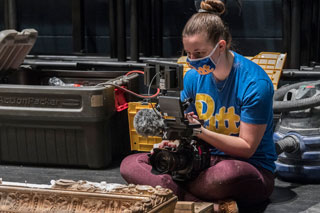 Pitt-Bradford is restoring a lost 19th century masterwork painting that hung in the Emery Hotel. In 1964, the hotel was reincarnated as one of the university's first residence halls. Once "The Emery" became a dormitory, the painting was stashed for safe keeping and forgotten for 55 years. This third installment features Pitt-Bradford students taking part in the work.
A quartet of Pitt-Bradford students is taking part in a unique hands-on learning experience this fall that combines art, history, research and videography.
The students have been involved in the university's Emery Art Restoration Project and a documentary film being made about the conservation of the 19th century painting and its connection to Bradford history.
The painting – a large oil canvas by Italian master artist Tommaso Juglaris -- was found last year in a Bradford warehouse, having been moved there in the 1960s when the university purchased a downtown hotel to serve as its first residence hall.
Pitt-Bradford hired conservators Jeffrey Johnson and Jacintha Clark of Harrisburg to restore both the 15-foot by 9-foot painting and its large and ornate wood and plaster frame.
Johnson and Clark stabilized and removed the painting from the warehouse during the summer and took it to their Harrisburg workshop for cleaning and beginning restoration. The painting and frame returned to Bradford Nov. 9 and entered their new home, Blaisdell Hall at Pitt-Bradford.
Although cleaned, some painting remained to be done where the original paint had flaked off, and the frame still requires cleaning and repairs.
Now the restoration of the painting and an accompanying documentary have provided the opportunity for four students to learn beside professionals in their fields. Faculty members in art, history and broadcast communications offered the experience to their students, who volunteered to take part outside of their normal course loads.
Senior Alexis Horning of Bradford, a psychology major with a minor in art, had a chance to observe and take part in the restoration of the painting, which depicts a ducal couple in a gondola in Venice, Italy.
"It's been very interesting," Horning said of her opportunity. "Walking into this restoration project – I knew nothing about it."
Clark explained to Horning how she had to patch areas where paint had fallen from the original canvas due to changes in temperature or possible water damage over the years. Because the original painter used a technique that involved layers of homemade oil paint that built up on the canvas, Clark had to first create a surface at the same level as the rest of the painting before she could begin adding new paint.
Clark talked with Horning about how she created the paint to be similar to that used by Juglaris, color theory and technique, and then handed Horning a brush.
"In my head, I was like, my goodness, be careful!" Horning said. "The brush strokes that I am used to didn't work. It's less of a brush and more of a pat. It was a little nerve-wracking, but it was a total new experience."
Horning said she loves that she contributed "a couple of little brush strokes" to restore the painting to its original beauty. "I was thrilled that I got to be a part of it. It gave me a new-found respect for things that have been restored."
Horning also spent time with Johnson learning about the techniques used to create and restore the large gilt frame. Since she lives in Bradford, Horning hopes to be able to return to campus when the conservators come back next month to finish restoring and cleaning the frame.
The three other students' hands-on lessons lay with cinematographer Adrian Selkowitz, who is documenting the project as a film.
Hayley Madl, a senior history-political science major from Beaver, and Devon Briggs, a junior double major in history-political science and international affairs from Port Allegany, have been researching the history of the painting's original owner, Pennsylvania State Sen. Lewis Emery of Bradford, and the hotel where it hung for 40 years before being crated and stored.
While Madl has conducted a lot of research in her college career and is currently completing her capstone project, she said this was the first topic she had researched from scratch.
"The Bradford Landmark Society has been immensely helpful," she said, in providing newspaper clippings and steering her toward other sources, such as the Smithsonian Institution, to work on finding the answers to new questions raised by the landmark materials.
While Madl is applying to doctoral graduate programs, she appreciated learning about a field she didn't know much about.
"I knew that historical consultation for documentaries was a thing," she said, "but I had no idea how to get into it. When this was mentioned, I accepted right away."
For Briggs, it is also his first time conducting original research. In addition to working with the Landmark Society to research the former Emery Hotel, Briggs consulted with Marietta Frank, director of Hanley Library, and combed the scrapbooks of Lewis Emery's granddaughter, Elizabeth Kennedy Fesenmyer, which are in the Hanley archives.
"We've gotten to see the whole picture, and now I see how much work goes into making a documentary," Briggs said. "This whole thing has been a very eye-opening experience for me.
"The fun part of the research has been looking at the primary sources and sifting and putting information into a timeline," he said. Now he and Madl will create 500-word essays about various aspects of the history that can be used in creating a script for the entire documentary.
For help with the actual filming, documentarian Adrian Selkowitz turned to Danica Andrews, a senior broadcast communications major from Germansville, Pa.
Andrews was grateful to have the experience before she graduates next month. She met with Selkowitz during the summer. Then, he shipped her a professional-grade camera so she could record footage on campus and around town that can be used during in documentary while people are talking.
She said that at first, carrying the expensive camera made her nervous, but she adjusted both to the camera and not having a professor there to guide and critique her.
"Having Adrian looking at my work was a real confidence boost," she said. 
Selkowitz said, "Danica has been able to handle all of the Bradford footage. Her footage looks terrific. She's up for it."
In addition to shooting "B-roll" in Bradford, Andrews spent time on site while Selkowitz conducted interviews for the documentary, and the conservators worked on the painting and frame.
Currently, the plan is for the painting restoration to be finished and the painting hung next month. The documentary will premiere at a later time. 
--30--