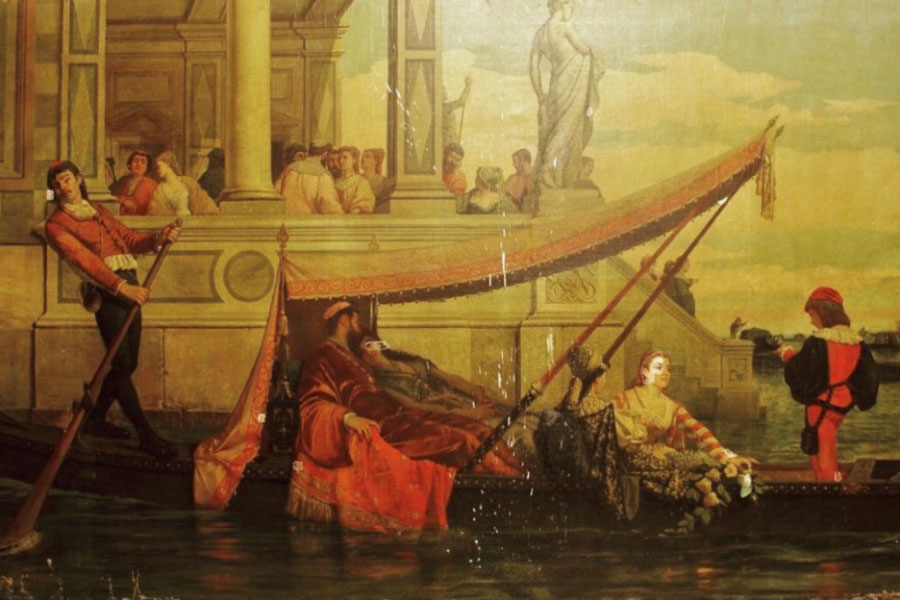 Last fall, a Bradford business owner found an historic painting that connects the rich histories of Bradford and the University of Pittsburgh at Bradford, which now is at the center of a large-scale restoration project involving faculty, students, and professional restorers.
The historic project, called the Emery Art Restoration Project at Pitt-Bradford, was officially unveiled to the university community on Thursday to commemorate the 57th anniversary of the campus's founding. Patty Colosimo, director of arts programming, gave an online presentation detailing the restoration project.
Typically, Founders' Day is celebrated on campus. However, to mitigate the spread of the coronavirus, this year's celebration was held online.
"Founders' Day was the perfect time to launch this restoration project," said Dr. Catherine Koverola, Pitt-Bradford's president, "because this painting is another example of the longstanding connection Pitt-Bradford has to the community, which has generously supported us for more than 57 years. We are so grateful to be part of this wonderful community and celebrate its rich history."
It all started last fall when Al Swanson of Bradford found the painting in a seldom-used warehouse of his construction business, Carl E. Swanson and Sons. Swanson, who was preparing to retire and close the business, was cleaning things out when he came across a large crate. He guessed the crate held a painting his grandfather had been storing for Pitt-Bradford for decades.
The painting in that crate was a 9-foot-by-13-foot oil on canvas by the 19th century Italian painter Tommaso Juglaris, a classically trained, moderately famous artist who exhibited in the Paris Salon of 1880.
For years, the painting belonged to Bradford oil magnate and Pennsylvania State Sen. Lewis Emery, an art lover and collector, who bought the painting in the early 1880s in Philadelphia after an exhibition there.
The sale was so significant it received media attention.
The St. Paul (Minn.) Daily Globe noted in 1884 that "Sen. Lewis Emery of Bradford, Pa., had added to his collection of art treasures a very large painting of Tommaso Juglaris of Venice, entitled Promenade de Venise." It also notes that Emery paid $3,000 for the painting -- "far below its value."
Emery's great-granddaughter, Elaine Northrup, a Pitt-Bradford alumna, longtime supporter and member of its Advisory Board, said, "It is clear that Sen. Lewis Emery Jr. realized the true value of this original artwork and purchased it to be included with his famous art collection."
The painting hung in Emery's mansion at 116 Congress St. Following Emery's death in 1924, his daughter, Grace, moved the painting to the Emery Hotel at the head of Main Street, where it hung in the Venetian Room, which was named for the painting.
In 1964, the Emery Hotel was sold to Pitt-Bradford, which had first opened its door to students on Sept. 3, 1963, under the leadership of Dr. Donald Swarts, Pitt-Bradford's first president.
"Don Swarts had the foresight to keep the painting," said Dr. Richard E. McDowell, who replaced Swarts as Pitt-Bradford's second president. McDowell shared his memory of Swarts' role following Thursday's online presentation, which was also open to members of the campus's Advisory Board and the Pitt-Bradford Alumni Association.
"He was a very forward-looking man and an artist in his own right," McDowell said. "He would be very proud of what we're doing today."
During the renovation to transform the hotel into Pitt-Bradford's first residence hall, Swarts had the painting professionally crated and stored in a warehouse provided by Carl Swanson, who owned Carl E. Swanson & Sons. Al Swanson, a 1981 Pitt-Bradford alumnus, inherited the company from his father and grandfather.
Years later, when Al Swanson found the painting, he called the university. Colosimo was very interested in seeing what could be done with it.
Colosimo called in conservationist Jeff Johnson to evaluate the painting's condition, and the two pieced together its history and how it came to be owned by Pitt-Bradford.
As Johnson works on the painting, others from Pitt-Bradford will be working on aspects of the project: Drew Flanagan, visiting assistant professor of history; Jeff Guterman, associate professor of broadcast communications; and Anna Lemnitzer, associate professor of art; and students across academic disciplines.  
Johnson will hold video chats with Pitt-Bradford art students about conservation work and be visited by a film crew to document the restoration for future classes.
Other Pitt-Bradford students are researching the plentiful history around the picture and helping with the creation of the documentary.
"It's so exciting that this piece of art that had a home in our first residence hall has been discovered," Koverola said. "Now, decades later, we are dedicated to bringing it back to its brilliance and celebrating the rich history that we share with the people of Bradford."
Fred Fesenmyer of Bradford, Emery's great-grandson as well as a longtime Pitt-Bradford supporter and member of its Advisory Board, agrees.
"I am very proud and honored to participate in this special occasion with the University of Pittsburgh at Bradford and the community of Bradford in recognizing my great-grandfather Lewis Emery Jr., a renowned business entrepreneur and a very successful Bradford oilman who had a keen interest in artwork."
When finished, the restored painting will hang in the KOA Speer Electronics Lobby of Blaisdell Hall at Pitt-Bradford.
Anyone with information about the painting, who remembers it or has a photo of it hanging at the Emery residence or hotel, is encouraged to contact Colosimo 814-362-5155 or colosimo@pitt.edu.
Meredith Fesenmyer, Lewis Emery's great-great-granddaughter, said, "My great-great-grandfather wore many hats – businessman, senator, fine art collector. It's amazing that this piece has withstood the hands of time and will continue for generations to come."
--30--