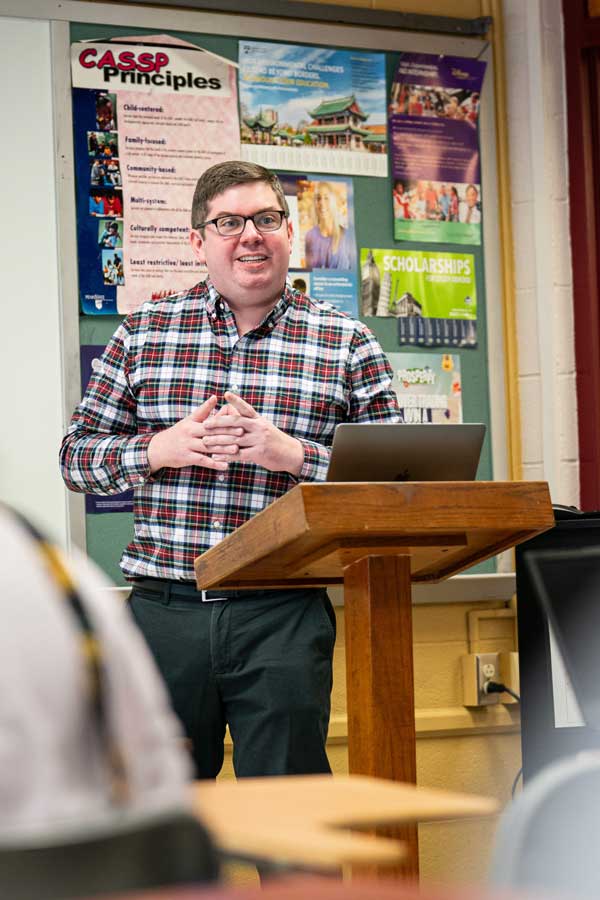 History-Political Science - BA
Discover how politics and political institutions influence what people, families and communities aspire to and help overcome and solve the problems that arise.
WHY STUDY HISTORY-POLITICAL SCIENCE?
Be part of a program that combines American and world history and American and international politics. You'll be encouraged to participate in one of the many internship opportunities in this area and beyond: city hall, county legislature, local historical societies and museums, Fortune 500 companies, civic organizations, federal legislators.
WHAT WILL I LEARN?
You'll learn the history of culture, economics, environment, ethnicity, conflict and development to help you understand politics.
WHAT CAN I DO WITH A DEGREE IN HISTORY-POLITICAL SCIENCE?
All of the experience you'll get will help you find your place in the world, wherever that place might be.
Job titles:
Analyst
Intelligence analyst
City manager
Consumer advocate
Historian
Historical archivist
Human rights advocate
Labor relations specialist
Museum curator
Political consultant
Employers:
Business and industry
Electoral campaigns
Political parties
Federal, state and local government
Special-interest groups
Think tanks
Nonprofit organizations
Research foundations
Museums, historical societies and archives
Public opinion and consulting firms
Featured Courses in This Program
HIST 0109

Course 1 Name

Renaissance And Reformation In Europe

Course 1 Description

Machiavelli, da Vinci, Erasmus, Duerer, Palestrina, Copernicus, Titian, Michelangelo, Luther, Calvin, Zwingli, Henry VIII, Ignatius Loyola, Charles V, Elizabeth I (good queen Bess), Henry IV (""old chicken pot"") of France, Columbus, Cabot, Diaz, .... Charles I (and his head), Savonarola (and his stake), Charles II (and his brood of 365+) are discussed.

HIST 0105

Course 2 Name

Europe In The 20th Century

Course 2 Description

In this course Europe on the eve of WWI is presented to show how Europe was drawn into the conflict; the war is discussed and the Treaty of Versailles is closely examined to discover if later European developments were directly traceable to that treaty. England and France are studied to see why appeasement (1938) was their only solution to international pressure. The rise of fascism in Italy, Germany, and Spain, and the establishment of communism in Russia are also discussed. The course ends with the outbreak of WWII.

PS 0207

Course 3 Name

Congress And The Presidency

Course 3 Description

This course examines the two major policymaking institutions in the American political system. First, it provides an overview of the development, structure, and process of the U.S. Congress. The emphasis is on the effects of the sometimes contradictory functions of representation and the lawmaking faced by members of congress. Then the focus turns to the institution of the presidency and its role in the policy making process. Particular attention is paid to understanding presidential power and leadership, as it relates to Congress.

PS 0220

Course 4 Name

Media And Internet In Politics

Course 4 Description

This course explores the ways in which the media, internet and technologies which are available via the internet are transforming politics, as well as how domestic and international politics are shaping media coverage and the internet's availability and usage. Topics covered include (but are not limited to) regulatory laws and international treaties, intellectual property, the global digital divide, norms of transparency and accountability, democratic internet technology, censorship, e-government, ethical and privacy concerns, internet voting, e-campaigning, the internet, political culture, and political behavior in democratic and authoritarian regimes, cyberactivism, cyberhate, social media and social movements, and the internet and political conflict.
I enjoy the opportunity to develop close relationships with my professors. Hayley Madl, a history-political science major from Beaver, PA