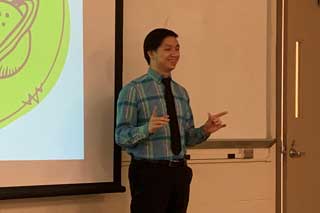 Pitt-Bradford business management and hospitality management majors had a chance to evaluate their business skills against other college students around the world during their capstone classes this spring.
Capstone classes synthesize what students have learned throughout their college careers into a final project. For students of Dr. Amy Gresock, assistant professor of business management, and Lynette Campogiani, visiting assistant professor of hospitality management, that came in the form of managing a simulated business as part of GLO-BUS, a global business competition for students at 251 campuses in 26 countries.
At the beginning of spring term, teams of students worldwide received identical attributes for a hypothetical business. Each business made the same thing – mobile cameras and drones, then could adjust factors such as employee pay and benefits, stock offers and buybacks, marketing dollars, whether to invest in robotic technology over assembly employees, research and development and more.
The GLO-BUS system then measured how each team would perform in relation to the other teams across the globe. Each week of the semester equaled a "year," and GLO-BUS posts standings of global top performers and corporate social responsibility awards weekly.
"I think the simulation is an excellent tool for helping students to understand how the principles of strategy work synergistically in affecting different performance measures," Gresock said.
During one week, one of Gresock's teams, which had renamed its company ASnapRone tied for second place in global top performers out of 2,656 teams competing.
The team consisted of Floyd Do, a business management major from Souderton, who served as marketing director; Olivia Feightner, a hospitality management major from Hamburg, N.Y., who functioned as human resources manager; and Ben Mulhall, a sport and recreation management major from Webster, N.Y., who acted as product and packaging designer.
ASnapRone students said their priority was making money for their investors, which they did by lowering assembly costs by developing robots, focusing on fringe benefits to retain employees and buying back stock.
Jacob McNabb, a business management major from New Kensington was on a different team. He said doing the simulation "helped show how one thing affects another" in the world of business.
Emily Hodge's took a different approach. The accounting and business management major from Philadelphia said that her group learned that corporate citizenship is as important as profits, especially when the quality of products equal to that of another company.
At first her group focused on cheap products, but within a couple of "years," its sales were down, and members decided to invest in product and employees, focusing on producing a premium product. It was hard to regain the territory that they had lost, she said.
"You don't want to be the bad employer that loses all your employees," she said.
At the end of the simulation, three Pitt-Bradford teams earned designations as "most outstanding corporate citizens" in the simulation, ASnapRone and two teams from Campogiani's class, Bradford Company and Dynamic Drones.
Gresock said, "I'm really proud of the capstone teams this semester. They all did very well with the simulation and demonstrated that they are not only mastering class concepts, but the application of strategic goals."