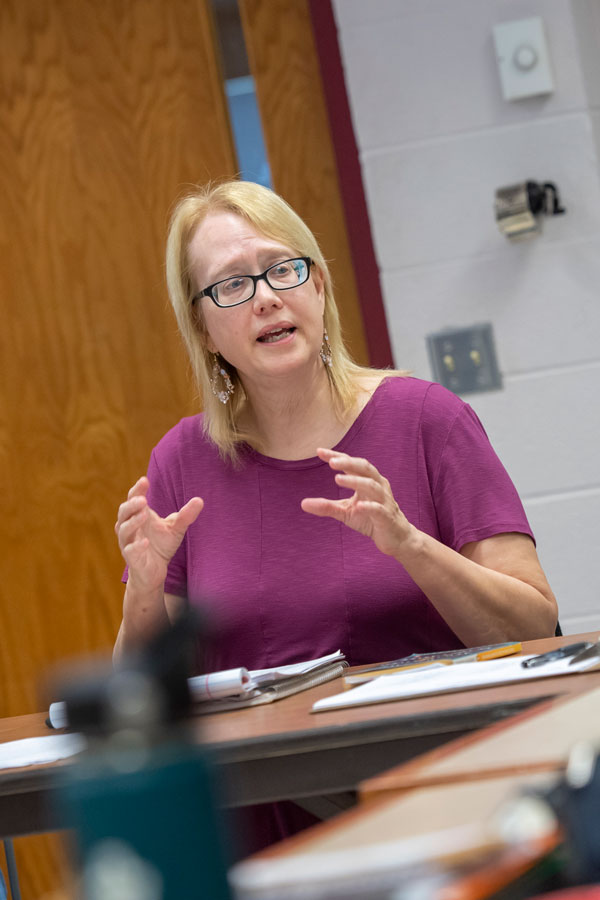 Writing - BA
Become one of the effective writers our world needs, no matter what medium you choose.
WHY STUDY WRITING?
"The creative writing classroom may be one of the last places you can go where your life still matters."—poet Richard Hugo
Good writers are needed everywhere: for magazines and websites, blogs, advertising copy, internal communications in companies or organizations, public relations, screenplays for TV and movies, works of fiction and nonfiction and poetry. Writing graduates work in education, law, business, and medicine, as journalists, speechwriters, art therapists, teachers, arts administrators, literary agents, and technical writers.
You'll have the chance to try out different genres and forms in a supportive community. You might study writing as a therapeutic process or literature about time travel or writing for children and young adults. You'll have a chance to learn about producing a literary arts magazine, rub elbows with visiting professional writers, and participate in open mics. Your work may get published in our campus and community magazine, Baily's Beads, which has been recognized seven times by the American Scholastic Press Association as the top student literary arts magazine in the country and twice by the Scholastic Press Association at Columbia University as one of the top ten in the U.S. In addition, our creative and professional writing program was named one of the best in the country by Study.com in 2021. Our faculty are out there in the field actively publishing our work, enabling us to bring you the best, most up to date information and connections.
WHAT WILL I LEARN?
You'll study fiction, poetry, creative nonfiction, journalism, magazine production, screenwriting.
WHAT CAN I DO WITH A DEGREE IN WRITING?
When you graduate, you'll have many kinds of jobs to choose from because employers are always looking for people who write well. Writing graduates work in education, law, business, and medicine, as journalists, speechwriters, art therapists, teachers, arts administrators, screenwriters, advertising copywriters, literary agents, novelists, attorneys, songwriters, and technical writers.
Job titles:
Author
Biographer
Editor
Editorial writer
Fact checker
Journalist
Proofreader
Fundraiser 
Publicity director
Technical writer
Employers:
Advertising agencies
Newspapers
Publishers
Magazines
Corporations
Educational institutions
Public relations firms
Law firms
Featured Courses in This Program
WRITNG 0106

Course 1 Name

Fiction Writing 1

Course 1 Description

And 1302 Fiction Writing 2 examine the basic elements of fiction while reading from different forms and genres, including short stories and novels, literary, fantasy, detective, women's, and science fiction, and look at related craft issues while you produce your own fiction.

WRITNG 0220

Course 2 Name

Writing Features for Magazines and the Web

Course 2 Description

Explore the myriad ways that staff and freelance writers make a living producing features for magazines, newspapers, and the web. You'll experiment with a variety of forms, including profiles of people and places, how-to, informational, and service, essay, narrative and opinion, humor and satire, historical or inspirational pieces, spot features and trend stories.

WRITNG 110

Course 3 Name

Scriptwriting for Stage and Screen

Course 3 Description

You'll learn about story structure, character development, use of conflict, scene writing, and dialogue, applying these basic dramatic principles to the development of your own original material. You'll participate in invention work, outlines/drafts, writing exercises, workshop review, discussion of plays and screenplays by professional writers, and giving and receiving feedback in a supportive workshop environment.

WRITNG 111

Course 4 Name

Literary Editing and Magazine Production

Course 4 Description

Along with 211 and 1311 Literary Editing and Magazine Production give hands-on experience as an editor, designer, and/or part of the promotion team for our online literary magazine. Learn about editing practices, proofreading, layout and design, style considerations, preparation of text, publicity, promotion, ethical issues related to print and online media.