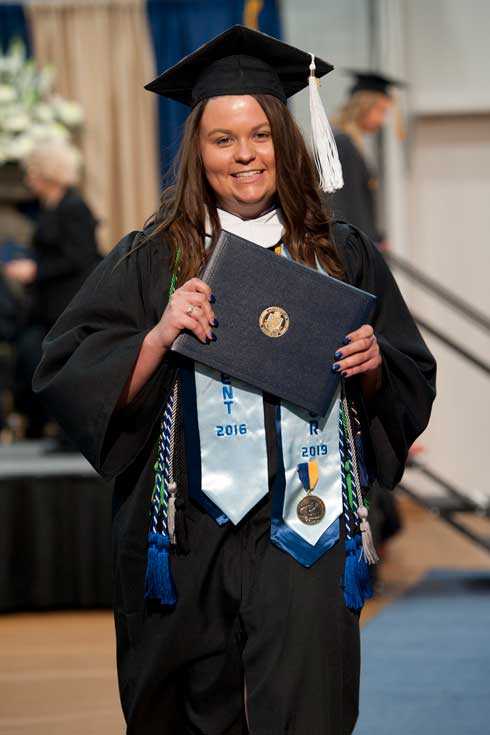 While Bethany was a student at Pitt-Bradford, she said she learned to get out of her comfort zone and take advantage of every opportunity she could. She wasn't kidding. This young woman was so active on campus that it takes a little while to list everything she was involved in.
Bethany was a resident advisor and a Student Ambassador. She served on the Student Judicial Board and was its chief justice. Bethany was founder and captain of the trapshooting team and volunteered with Habitat for Humanity. She was president of her Alpha Phi Omega service fraternity pledge class and was a senator for the Student Government Association. She also presented research during the annual Penn-York Undergraduate Research Conference.
For all of her involvement on campus, Bethany received the Student Life Award for Outstanding Leadership, Scholarship, Character and Service to the University.
My fellow classmates as well as the faculty and staff accepted me for who I am, and I have been fortunate to have met so many great people.
However, her activities weren't confined to just campus.
During her senior year, she supplemented her studies with two internships. Bethany spent the fall semester as an intern at the YWCA Bradford homeless shelter, where she helped residents find the resources they needed to become independent and successful. In the spring, she interned with the United Way of the Bradford Area, where she worked on several projects, including the annual Report to the Community.
It was a great four years for Bethany, who graduated summa cum laude. However, it didn't start out that way. When she was a freshman, she chose a different major and didn't have a Plan B in case that major didn't work out.
Along the way, she discovered her passion for sociology and switched majors.
"Four years later, I am on track to pursue a career in social work. I'm so glad I took the leap of faith to get where I am now. There are endless possibilities associated with sociology."
She credits the people around her for being so supportive.
"My fellow classmates as well as the faculty and staff accepted me for who I am, and I have been fortunate to have met so many great people."