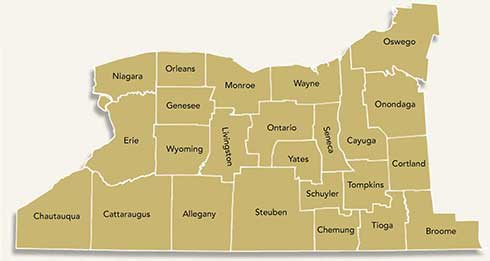 If you are a new, incoming, Pitt-Bradford student from one of the counties on the map, you may qualify for the Go Beyond NYS Award that enables students to pay the equivalent to standard tuition as PA students instead of the higher out-of-state tuition:
That's a savings starting at $11,640 a year.
To qualify you need to:
Live in one of the following New York counties: Allegany, Broome, Cattaraugus, Cayuga, Chautauqua, Chemung, Cortland, Erie, Genesee, Livingston, Monroe, Niagara, Onondaga, Ontario, Orleans, Oswego, Schuyler, Seneca, Steuben, Tioga, Tompkins, Wayne, Wyoming, Yates
Be a new student
Be a full-time student
Maintain at least a 2.25 grade point average throughout your four years at Pitt-Bradford.
The award applies only for eight consecutive Fall and Spring terms (four years) and cannot be used for courses taken during the summer. You should also be aware of the award terms and conditions.
Many students are already taking advantage of this award.
If you are eligible for this award and also a Panther Scholarship for Out-of-State Students, you will receive the larger of the two. You cannot combine the two.
Being able to come to Pitt-Bradford has allowed me to receive an amazing education for such a low price. Joe Crawford of Wellsville, NY, who is majoring in hospitality management