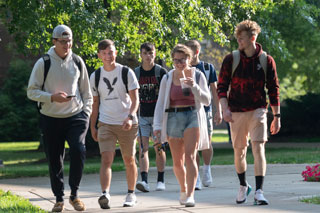 Washington Monthly's annual college ranking has recognized the University of Pittsburgh at Bradford for a seventh year as a good value college and one that contributes to the public good.
Pitt-Bradford was the top public college in Pennsylvania and ranked 31st out of 391 colleges and universities in the Northeast. Pitt-Bradford ranked 9th in the Northeast in the student loan repayment rate of its alumni, another measure of the value a Pitt-Bradford education can provide students versus its cost.
Pitt-Bradford also ranked 27th in the Northeast in a measure of median earnings for alumni 10 years after entering college, which is $57,961.
Additionally, Pitt-Bradford was the top Pennsylvania college in a nationwide ranking of colleges and universities that focus on students earning bachelor's -- as opposed to graduate --degrees. In that category as well, Pitt-Bradford ranked highly on earnings performance (7th) and repayment rate (8th) as well as social mobility (17th).
The social mobility ranking is calculated using a complex formula of factors that include graduation rate and a predicted graduation rate given the number of students who come from families with lower incomes, the percentage of students receiving student loans, the admissions rate, and the racial/ethnic and gender makeup of the student body. In other words, Pitt-Bradford students' incomes are higher than statistical models would predict when they enter school.
Washington Monthly uses information from the federal College Scorecard to base its national college rankings on social mobility, research and community, and national service.
"This ranking, although lesser known, is particularly valuable to us," said Rick Esch, president of Pitt-Bradford. "Washington Monthly's rankings emphasize what we value most – helping students of all backgrounds achieve their goals."
The magazine, based in Washington, D.C., says that it "rates institutions of higher learning on the degree to which they recruit and graduate students of modest means, produce the scholarship and scholars that drive economic growth and human flourishing, and encourage students to be active citizens and serve their country."