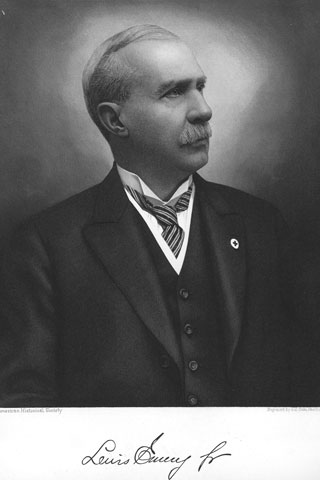 The University of Pittsburgh at Bradford is restoring a lost 19th century masterwork painting that hung in the Emery Hotel. In 1964, the hotel was reincarnated as one of the university's first residence halls. Once "The Emery" became a dormitory, the painting was stashed for safe keeping and forgotten for 55 years. This first installment of a five-part series about the restoration introduces the painting's original owner, a globe-trotting Bradford millionaire.
By SALLY COSTIK
How did a giant 19th century masterwork painting by Italian artist Tommaso Juglaris come to be found in Bradford warehouse?
The answer is the town's most influential citizen, state Sen. Lewis Emery, oil tycoon, politician and collector who defeated John D. Rockefeller and Standard Oil, knocked out a fellow senator on the floor of the capitol building, and amassed a private museum in his own home.
Emery, who died in 1924, was a true Renaissance man, and his lifetime accomplishments seem almost unbelievable. He was a philanthropist, pioneer oil producer, oil refiner, banker, college professor, manufacturer, miner, storekeeper and politician.
"The guy was just incredible," said Fred Fesenmyer, Emery's great-grandson and chairman of Minard Run Oil Co. Minard Run is the only surviving direct-descendant company of more than a dozen owned by Emery.
Born in nearby Cherry Creek, N.Y., but raised in Michigan, Emery attended Hillsdale College.
"He was such a good student," Fesenmyer said. "At the end of his junior year, they were running low on faculty, so they asked him if he wouldn't mind being a student-professor his senior year." He didn't mind, so he did.
At Hillsdale, he met a young faculty member, Elizabeth Caldwell, and the two were married. But the quiet teaching life was not for Emery. He followed his innate business to Bradford during the early days of the oil excitement and drilled his first well at Toad Hollow outside the city, in 1875. Eventually, he owned over 600 producing oil wells.
In addition to his oil concerns, he built his holdings to include an alkali and acid works company, lumber companies, two refineries, a hardware store, a manufacturing concern, gas companies, the Inca Mining Co. a gold mine in Peru, gold mines in California, wheat fields in the Dakotas, and interest in several banks.
Emery's work in the oil business took him overseas several times, ostensibly to observe foreign oil production, but in truth, he was fascinated by different customs, scenery, manners, language, and modern and ancient architecture. He traveled to Central Asia in 1879, spent three weeks in the oil fields of Galicia, and traveled through the Carpathian Mountains in areas so remote that few, if any, Americans had ever visited there. He took a steamer along the north coast of the Black Sea for more than a thousand miles and visited Baku on the Caspian Sea.
Everywhere he went, he collected souvenirs, and curiosities of his travels. Once he returned to Bradford, he exhibited them in his own personal museum, located on the second floor of the Emery Hardware Store.
The collection included a Persian javelin inlaid with silver, a pair of Persian vases elaborately carved from solid stone, a pair of Egyptian vases from Alexandria, highly colored and beautifully ornamented Tartar cap and shoes, a Turkish fez, samples of earth wax from Galicia, a mosaic box and jewelry from Bohemia, ball and shells from the battlefield of Sevastopol, a report of the Russian oil field written in Russian, natural meerschaum from Trebizond (Turkey), amber from Finland, Mohammedan wooden spoon and cup, coins of different nations, a Cossack costume, a Turkoman astrakhan coat, samples of oil and sand from the European oil fields, a complete suit of Persian armor, Damascus steel cimiter and poignard knives, the jawbone of a whale, animal skins from Norway, and specimens of rare old lace.
Emery delighted in showing off his museum collection and often invited visitors to the city for a tour. In 1889, The Bradford Era wrote, "the museum owned by Mr. L. Emery, Jr., is very valuable and contains many rare specimens collected by himself during his travels to distant lands. No one going to Bradford should fail to visit it, if permitted to do so – and the owner is always courteous."
In 1878, he entered politics, being elected to the state House of Representatives.
"He became a state senator in 1881," Fesenmyer said, "because oil men respected him. He was such a straightforward, honest person, and they felt that that's the type of person they needed to represent them in Harrisburg."
Emery served one four-year term as a state senator from 1881 to 1885.
In 1884, he added to his vast collection a 9-foot by 15-foot masterwork oil painting, "Promenade in Venice," that had been exhibited at that time in Boston and Philadelphia. The artist, Tommaso Juglaris, was eager to sell the painting because of its large size, which made it hard to move and store. Juglaris feared that his masterwork, which had been honored in the Paris Salon of 1880, would be damaged if he had to keep taking it out of its frame, rolling it up, then reversing the process each time it was moved and shown.
The painting came to hang among the collectibles in Emery's "museum," then was moved to The Emery Hotel at the head of Main Street, which was built by Emery's daughter, Grace, in his memory.
In 1964, the University of Pittsburgh purchased the hotel to serve as a dormitory for its fledgling Bradford campus. Recognizing that a dorm was no place for a masterwork painting to hang, Dr. Donald Swarts, the erudite first president of the college, had the painting crated and stored with a local contractor, Carl E. Swanson. Swanson's grandson Alan inherited the company and when he decided to retire last fall, he cleaned out the warehouse where the painting had been stored – and remained – for 55 years.
Pitt-Bradford officials were excited to learn about the painting and immediately wanted to restore it.
"This painting represents a piece of Sen. Emery's significant part in Bradford's rich and colorful history," said Dr. Catherine Koverola, Pitt-Bradford's president. "This restoration project enables us to showcase and preserve that history as well as Pitt-Bradford's connection to it. We're delighted to be part of this exciting and beautiful project."
Patty Colosimo, director of arts programming, is organizing the preservation effort as well as a video documentary of the restoration and the painting's history. Pitt-Bradford students are working on the restoration, the history and the videography as well.
"This is an extraordinary opportunity for the campus and community to learn our intertwined history and to preserve it for generations to come," Colosimo said.
Elaine Fesenmyer Northrup, Emery's great-granddaughter, said, "It's wonderful for the community, and our family is very proud."
The purchase of "Promenade in Venice" in 1884 may have been the pinnacle of Lewis Emery's collection. How fitting it is that this painting has survived through the years and will once again be shared with the Bradford community through the efforts of Pitt-Bradford.
--30--