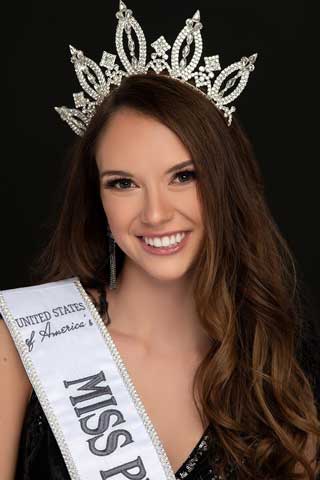 By Aaron Suranofsky '23
University of Pittsburgh at Bradford sophomore Gretchen Henneman is balancing her schoolwork as an early level education major with her duties as United States of America's Miss Pennsylvania 2022.
Recently, that even included spending several days in Las Vegas competing for the United States of America's national title. And she is using her title to speak out for her greatest passion: arts education. Henneman's reign has allowed her to create school events and theater workshops supporting the arts for students.
A graduate of Bradford Area High School, Henneman was introduced to pageants through the Pennsylvania State Fair Queen Program when she was selected Miss McKean County in 2020. She was unsure whether she would continue a pageant career after her reign as Miss McKean County when she was contacted by a representative of the United States of America Pageants organization who encouraged her to compete for United States of America's Miss Pennsylvania 2022. While debating whether to compete, Henneman decided she would rather tell her future students she was the teacher who tried out to be Miss Pennsylvania, than the one who didn't. In October, competing as Miss Kinzua in Malvern, she not only competed for the title, but won the right to tell her future students she was Miss Pennsylvania.
The other contestants were warm and welcoming during and after the competition, she said, and she still messages her fellow Pennsylvania queen contestants every day, cherishing the friendships she made over the experience.
After winning the state crown, Henneman was worried the national competition in Las Vegas would be cutthroat, but her fears proved false. Henneman said the national pageant was a drama-free zone where she met new friends. She also respected that the program focused on a contestant's personality instead of superficial characteristics like weight, size, and appearance.
"When you look at the finalists, you see a variety of shapes, sizes, and races. Proof that the negative stereotypes about pageants aren't true," Henneman said. She did not win the national competition but will remain United States of America's Miss Pennsylvania 2022 through September. She will make the most of that time to speak out for theater and arts education in schools across Pennsylvania.
Her love for the arts began when she was young, acting in her first theater performance at 7 years old, when she played the part of the Evil Queen in "Snow White" for her class's second grade play. Acting in productions from elementary through middle and high school, she found joy in theater whether she was a lead actor or on the stage crew. She took this affection for the arts and turned it into her platform, Tiny Town Theatre.
Tiny Town Theatre advocates for and educates the public on arts education. Henneman and her team conduct workshops with children discussing the fundamentals of theater, dance, photography, music, and writing. They organize activities such as sing-alongs and acting games to quickly expose children to different creative avenues.
"The rewarding aspect of theater is that no matter what your skill level is, there are multiple opportunities to participate in a cast, crew or production team. Theater is a community that thrives on inclusion," Henneman said.
She strives to make creative opportunities for children in the face of arts education cutbacks across the country. Another way Henneman helps children have the same wonderful experiences in theater that she has had is by being a board member of the Bradford Little Theatre. Henneman began participating in the Bradford Little Theatre in sixth grade, and at 19, she became the youngest board member in the program's history.
"The crown gives me a microphone to speak up for the next generation of creative children," Henneman said. Being Miss Pennsylvania has helped her reach a larger audience on social media. She believes that no matter where someone lives, they deserve the right to arts education. She has hosted school events and interviews with judges about the importance of the arts, which she has conducted all over Pennsylvania and into New York and New Jersey.
She plans to continue using her platform to support arts education in Pennsylvania and its surrounding states. She looks forward to assisting local play productions on the weekends and taking part as an actor during college breaks. Like many busy students, Henneman values the support she has gotten from family and friends to achieve her goals, which now include completing her bachelor's degree in early level education, moving on to a master's degree, and then becoming a teacher whose dedication can enrich the lives of her students.