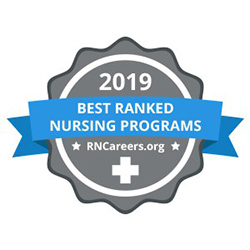 RNCareers website has ranked the Pitt-Bradford's Associate of Science in Nursing program fifth in the state for 2019.
The site looked at 1,949 nursing programs nationwide and ranked them on metrics such as first-time NCLEX-RN passing rates, accreditation and more. It ranked 24 colleges and universities in Pennsylvania out of the 76 that offer nursing programs.
Rankings were based on the three-year average of NCLEX-RN pass rates. The NCLEX-RN is the certifying exam for registered nurses. Nurses must pass the exam in order to practice as an RN. Pitt-Bradford's three-year pass rate is 91.95%. In 2018, it achieved a 100% NCLEX pass rate. The state average is 89%.
"We are really pleased to have our program recognized by RNCareers in this manner," said Dr. Tammy Haley, associate professor of nursing and nursing program director.
"At Pitt-Bradford, we have a longstanding tradition of educating high-quality registered nurses for this region and beyond. This recognition really highlights the hard work and dedication of our top-notch nursing faculty and their work with some of the best and brightest students in the region."
In addition to examining information from the institutions, programs and testing data, RNCareers surveyed more than 9,000 nurses and gathered data from the state nursing board, U.S. Department of Education College Scorecard, the National Center for Education Statistics and the Bureau of Labor Statistics.
The site also included information on the net cost of programs (after financial aid has been awarded) loan default rates, borrowing and loan payments.
The program at Pitt's Titusville campus was ranked 7th in Pennsylvania with an NCLEX-RN pass rate of 91.53%
For full rankings, visit www.rncareers.org/rn-programs/pennsylvania/. For more on Pitt-Bradford's nursing programs, visit www.upb.pitt.edu/nursing/.