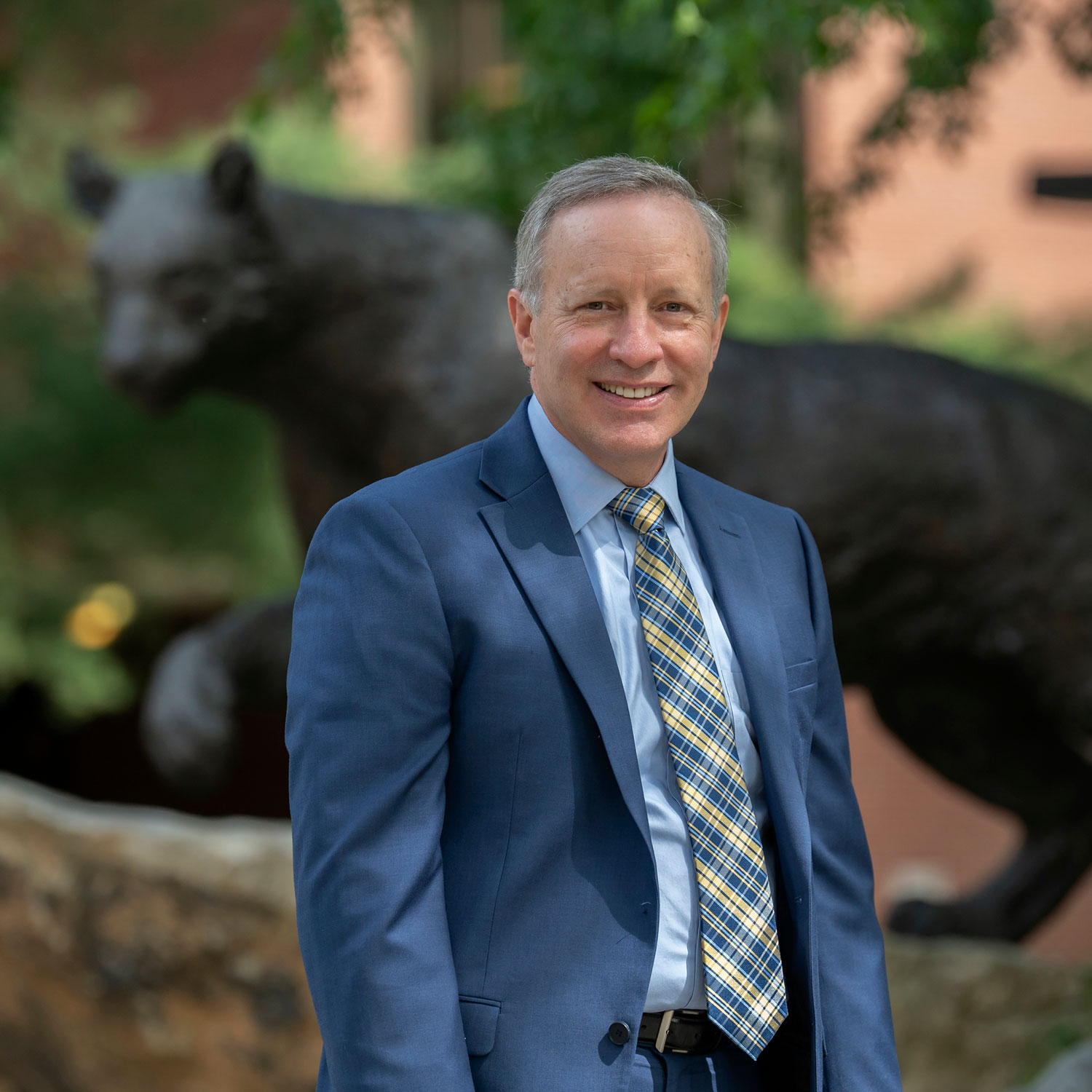 Rick Esch, who has been serving as interim president of the University of Pittsburgh's Bradford and Titusville campuses for the past year, has been named president of both campuses, effective July 1.
University of Pittsburgh Provost Ann Cudd announced the appointment to the university community on Friday.
 "Rick has demonstrated deep commitment to Pitt-Bradford's and Pitt-Titusville's students, faculty and staff," Cudd said, adding that Esch draws on his own experience as a proud Pitt-Bradford alumnus to focus on ensuring that the academic experiences at his alma mater and at Pitt-Titusville are excellent and fulfilling.
Esch said, "It has been a great privilege and honor to serve as interim president of Pitt-Bradford and Pitt-Titusville this past year. I look forward to continuing to work with my colleagues on both campuses and throughout the entire university to help our students succeed, ensure the viability of both campuses, and support each other in these efforts."
In her announcement, Cudd noted some of Esch's most significant contributions, including his work in championing the construction of and fundraising for the George B. Duke Engineering and Information Technologies Building and successfully guiding both campuses through the COVID-19 pandemic. 
Under Esch's leadership, construction began on the Duke Building, designed to be a place of innovation and discovery, which will house the new engineering technology majors as well as the computer information systems and technology, energy science and technology, and information systems programs. Additionally, the building project has received wide community support, including a $2 million gift from Duke and additional contributions from other businesses and community members.
For the past two years, Esch also led the COVID-19 mitigation efforts on both campuses and represented Pitt-Bradford and Pitt-Titusville on the Chancellor's Resilience Steering Committee, working closely with Pitt's COVID-19 Medical Response Office and collaborating with local, regional and state agencies, including the McKean County and Crawford County Emergency Management agencies, UPMC and Bradford Regional Medical Center. 
Under Esch's leadership at Pitt-Titusville's Education and Training Hub, the Manufacturing Assistance Center at the University of Pittsburgh Swanson School of Engineering began offering a basic machinist certification course and graduated its first cohort of students in January, the Broadhurst Science Center was renovated, and a new certified medical assistant and phlebotomy course will be offered beginning July 18 through the Brockway Center for Arts and Technology, an affiliate of Manchester Bidwell Corp.
Shortly after being named interim president last July, Esch prioritized enhancing existing and developing new relationships on both campuses and in their respective communities, which had been difficult due to the restrictions in place during the pandemic.
During the past year, more in-person events were held safely on campus. Alumni returned to their alma mater during Alumni and Family Weekend, students at the Donor Scholarship Luncheon personally thanked the donors who established their scholarships, and families on both campuses celebrated with their graduates at Commencement.  
"None of this progress would have been possible without the continuing commitment of our faculty and staff as well as the generous support we have received from our alumni and our friends in the community," Esch said.
Cudd also noted in her announcement that the enduring community relationships Esch built over the years have been far-reaching.
Esch is very active in the region, including serving as president and charter member of the Tuna Valley Trail Association, a board member and immediate past chair of Journey Health System, a board member and managing director of the Bradford Educational Foundation, and a board member and vice president of the Bradford Economic Development Corp.
He also is a member of the McKean County Advisory Board at Northwest Bank, a founding board member and treasurer of the McKean County Community Foundation, and a board member of the Community Foundation of the Upper Alleghenies.
Previously Esch served as board chair of Journey Health System for seven years; was active in the Rotary Club of Bradford, serving as president and Youth Exchange Officer and is a Paul Harris Fellow; was a member of the Steering Committee for Impact Bradford I and II; and was a member of the Steering Committee for Building a Better Bradford Economic Development Master Plan. 
Esch began his career at Pitt-Bradford in 1995 as the director of auxiliary services and five years later was named chief business and administrative affairs officer. In 2003, he was promoted to vice president for business affairs. In 2012, he was named vice president for business affairs at Pitt-Titusville. 
He holds a bachelor's degree in environmental science from Pitt-Bradford and a Master of Business Administration from Pitt's Katz School of Business Executive MBA program.
He and his wife, Lisa, live in Bradford and have three grown children.