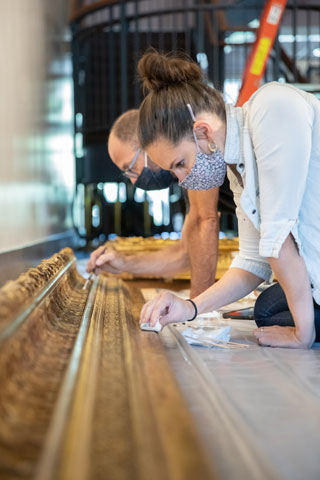 The University of Pittsburgh at Bradford will reveal a restored 19th century oil painting, which once held a place of prominence in Bradford's historic Emery Hotel, and a film documentary about its restoration on Oct. 29.
At 7:30 p.m. in the Bromeley Family Theater in Blaisdell Hall, the university will premier "Reclaiming History," a half-hour documentary by award-winning filmmakers Adrian Selkowitz and Rufus Lusk.
The public is invited to the first-time showing of the film about Pitt-Bradford's restoration of a painting forgotten since the 1960s. The event is free, but those who wish to attend are asked to acquire tickets through the Bromeley Family Box Office at 814-362-5113 or www.upb.pitt.edu/TheArts.
When viewers finish watching the documentary, they will exit to see the unveiled restored painting, a 15-foot by 9-foot painting of "A Venetian Promenade" painted by Italian master Tommaso Juglaris in the 1870s in Paris.
For their documentary, Selkowitz and Lusk had lots of material to work with. In addition to explaining the detailed process of the restoration by Jeffrey B. Johnson and Jacintha Clark, there was the story of the artist himself coming to America and how the painting made its way from the Paris Salon to Bradford and into the hands of the university.
"Documentaries are an investigation of a story, and you never know where it's going to lead you," Selkowitz said. "I always love the journey of the investigation. It's what keeps me interested."
As a teenage film buff with the most movies checked out at his neighborhood Blockbuster, Selkowitz studied story arcs, pacing and camera angles by watching movies before his more formal training at New York University's prestigious film school.
"I intuitively understood plotline and structure," he said. Like many budding filmmakers, he created his own short films as a teenager, using his family's bulky VHS camcorder, complete with backpack.
Since he had no way to edit those early films afterward, he wrote and rehearsed everything before filming. "You had to get the scene perfect before you shot it," he said.
As a film student in the late 90s, he worked with physical film stocks, which required substantial preparation before rolling the camera. As he transitioned to digital filmmaking, Selkowitz embraced the freedoms that came with it, but kept many of the traditional processes in his approach to storytelling, including lots of advance research.
Selkowitz said that when Pitt-Bradford hired his company Cowboy Bear Ninja to create the film, he had a lot of support from the university. Patricia Colosimo, director of arts programming, worked with Matthew Hileman, executive director of the Marilyn Horne Museum and instructor of art history, to find out more about Juglaris.
The painting came into the university's hands in the early 1960s when it owned the former Emery Hotel at the head of Main Street in Bradford for use as a student residence. The hotel had been built in memory of oil tycoon and Pennsylvania Sen. Lewis Emery of Bradford, who had first brought the painting to Bradford, where it hung in his home.
Following Emery's death, his daughter built the hotel in his memory, and the painting of a gondolier propelling a noble couple through Venice hung in a room of the hotel that became known as "The Venetian Room" in its honor.
When Pitt-Bradford purchased the hotel, then-president Dr. Donald Swarts moved the painting to a local warehouse, where it would remain forgotten for more than half a century.
With basic information already gathered, Selkowitz mapped out a preliminary version of the film and identified information gaps that would need to be filled. Pitt-Bradford history-political science students Hayley Madl and Devon Briggs worked with the Bradford Landmark Society to provide more background about Lewis Emery.
Selkowitz traveled to Michigan to interview Dr. Geoffrey Drutchas, a cultural historian in Michigan, where Juglaris was known for painting the capitol rotunda. Drutchas served as guest curator for an international Juglaris exhibition at the Michigan State Historical Center and runs the website Juglaris.org.
Before the premier showing of "Reclaiming History" on Oct. 29, the audience will have a chance to hear from Drutchas, conservator Jeffrey Johnson and Selkowitz. A reception will follow the film.
The painting will permanently hang in the KOA Speer Lobby of Blaisdell Hall.
--30--