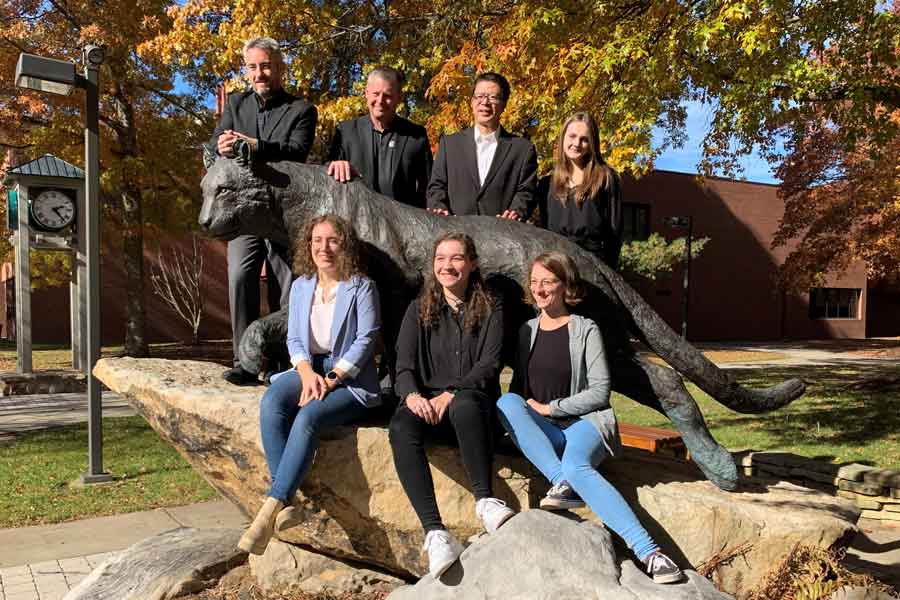 Four international students from Germany took the top prize in the second Watson Institute Basecamp pitch contest held this weekend at the University of Pittsburgh at Bradford.   
The winning team, which proposed a mental health service app for companies called Mynd, comprised Johanna Berger, Rebecca Beetz, Daniela Soroka and Martina Brombach. The students are from Heilbronn University of Applied Sciences in Heilbronn-Sontheim studying at Pitt-Bradford for the year through an exchange program agreement between the two universities.   
The team's mock pitch came after a weekend of learning about entrepreneurial processes and learning from mentors from businesses and industry, including Kamron Khodjaev, a Pitt-Bradford alumnus and co-founder of KOOP Technologies, an insurance technology company for autonomous vehicles and robotics based in Pittsburgh.   
The student teams came up with a solution to a problem in the community and presented their solution before a panel of judges composed of Edward J. Hayden, director of employee relations at Zippo Manufacturing Co.; Dr. Ken Wang, associate professor and director of the computer information systems and Jon Giberson, president and chief operating officer of American Refining Group.   
"This is a wonderful app," Wang told winning the group. "I'm very impressed."   
Hayden said he really liked the ideas the group presented in the app, which combines some of the methods used at Zippo to help employees with mental health issues.   
Giberson said, "Society is going more and more toward apps. I think what you proposed is very good."   
Members of the winning team were awarded $150 gift cards.   
Earlier in the weekend, the 30 students involved in the weekend workshop visited America Refining Group to ask questions about its business model before discussing the types of problems they see in the community, conducting a Root Cause analysis and proposing a prototype solution.
This is the second year Pitt-Bradford has hosted the Watson Institute through the generosity of the Halloran Foundation. 
--30--