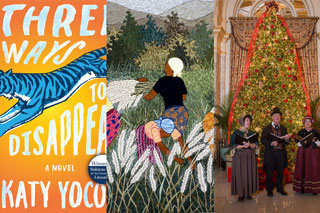 The University of Pittsburgh at Bradford Arts returns to the stage and gallery this academic year with scheduled in-person offerings for the 2021-22 year.
Unless public health guidance changes, Pitt-Bradford Arts is planning for the events to be held in-person on campus. Patrons will be required to follow the university's current COVID-19 safety guidelines, which includes the use of face coverings inside all buildings.
All events are free unless otherwise noted. For more information on individual events or tickets, contact the Bromeley Family Theater box office at 814-362-5113 or visit www.upb.pitt.edu/TheArts.
Sept. 29 – Writer Katy Yocom, 7:30 p.m., Mukaiyama University Room, Frame-Westerberg Commons. Yocom's first novel, "Three Ways to Disappear," has been named a Barnes & Noble Top Indie Favorite. It follows two families – one human, one tiger – on parallel journeys. To research the novel, Yocom traveled to India. Her writing has appeared in Newsweek and Salon. Her short fiction has been nominated for a Pushcart Prize. She was born and raised in Atchison, Kan., and lives in Louisville, Ky. For more, visit katyyocom.com.
Oct. 18 – Filmmaker Patrick O'Connor will visit Pitt-Bradford for a screening of his film "Look Away, Look Away" at 6 p.m. in Bromeley Family Theater, Blaisdell Hall. The documentary film introduces an array of activists and captures the fierce five-year battle over the depiction of the Confederate flag as part of the Mississippi state flag, revealing how race, heritage and long-simmering grievances over the Civil War shape Americans' perception of themselves and their country. "Look Away, Look Away" was the winner of the audience award for best documentary, best film and best Mississippi film at the Oxford Film Festival.
Oct. 19 – Writer Margaret Mcullan, noon, Mukaiyama University Room. McMullen is the author of nine award-winning books, including "In My Mother's House," the story collection "Aftermath Lounge" and the anthology, "Every Father's Daughter." Her young adult novels, "How I Found the Strong," "When I Crossed No-Bob," "Cashay" and "Sources of Light," have received best book awards from Parents' Choice, School Library Journal, the American Library Association and Booklist, among many other educational organizations. Her newest book is the memoir, "Where the Angels Lived: One Family's Story of Loss, Exile, and Return."
Oct. 29 – Documentary film premiere and unveiling of the Emery Art Restoration Project at Pitt-Bradford, 7:30 p.m., Bromeley Family Theater, Blaisdell Hall. Join Pitt-Bradford Arts for the unveiling of the Tomasso Juglaris's painting Paola Veronese in Venice. Lost for 50 years, this painting will now hang in the KOA Speer Electronics Lobby in Blaisdell Hall. Celebrate the story and restoration of the painting as well as the local and university ties to this extraordinary piece of art. A presentation by restorer, Jeffery Johnson, of Johnson and Griffiths, will explain the restoration process, and Adrian Selkowitz, videographer and owner of Cowboy, Bear, Ninja, will introduce the documentary film that was created to tell this fascinating story. This event will be followed by the unveiling of the painting and a reception. 
Nov. 1 – Biological Regionalism virtual exhibition and artist talk (link to be announced). A series of large paintings, water samples and related data, historical information, ecological research, large maps, video projections and process work samples by artist Alberto Rey. The exhibit explores the history and the present condition of the Scajaquada Creek that flows through three municipalities before it is diverted through a three-mile tunnel underneath the city of Buffalo N.Y.
Nov. 20 – Vocal ensemble Musica Spei, 3 p.m., Harriett B. Wick Chapel. $15 for the public, $5 for students. For two decades, the vocal ensemble Musica Spei (Music of Hope) has worked collaboratively, without a conductor, to bring choral masterworks of the medieval and renaissance periods to audiences in western New York. The ensemble's emphasis and particular specialty is the sacred music of the middle ages and renaissance, with forays into related territory.
Dec. 3-4 – The American Caroling Co. holiday carolers, throughout the Bradford Community. For the holiday season, Pitt-Bradford Arts brings numerous performances to the community. Victorian-dressed vocalists and musicians will stroll the streets and visit schools, nursing homes and businesses throughout Bradford to share the holiday spirit. A full schedule will be announced at a later date.
Jan. 26, 2022 – Baily's Beads literary magazine celebration, 7:30 p.m., Mukaiyama University Room, Frame-Westerberg Commons. Pitt-Bradford's annual magazine, Baily's Beads, will be unveiled with refreshments, prizes, readings by Baily's Beads contributors and an open mic for anyone who wants to share original work.
Jan. 27, 2022 – Pitt-Bradford faculty and staff recital, 11:45 a.m., Studio Theater, Blaisdell Hall. They are not only creative in their day jobs, Pitt-Bradford faculty and staff have other creative talents too. Come experience their passion for music as they perform both vocal and instrumental selections. 
Feb. 11, 2022 – Fly Dance Company's Gentlemen of Hip-Hop, 7:30 p.m., Bromeley Family Theater. $25 for the public, $5 students. Based in Houston, Fly Dance Co. offers street dancing set to classical music. The company has performed at the Kennedy Center for the Performing Arts, Vail International Dance Festival and Lincoln Center. The company is the creation of a retired public school dance teacher who encountered a crew of street dancers at a festival and immediately visualized how, with their skills and her choreography, she could create an act to appeal to performing arts audiences.
Feb. 21-March 18 – Pax Rwanda: Embroideries of the Women of Savane Rutongo-Kabuye. KOA Art Gallery, Blaisdell Hall. Opening reception noon, Feb. 21. An exhibition of modern embroidery art created by the women of the Savane Rutongo and Savane Kabuye workshops in Rwanda. These survivors of the 1994 genocide support themselves through their exquisite embroidery, first brought to Rwanda by Belgian nuns, who taught the art to school girls during the colonial era. See samples of the work at PaxRwanda.com.
Feb. 18 – Buckets 'N' Boards Comedy Percussion Show, 7 p.m., Bromeley Family Theater, Blaisdell Hall. $10. Musicians and comedians Matt Levingston and Gareth Sever bring a joyous charm to this full stage production, born of their shared passion for music and rhythm. This family-friendly act has spent the last 12 years in Branson, Mo., and is a top headlining act on the Disney Cruise Line.
March 16 – Charlie Schulman, playwright, and Michael Roberts, writer, composer and lyricist, 7:30 p.m., Mukaiyama University Room, Frame-Westerberg Commons. Roberts and Schulman will discuss the journey of their musical "Goldstein," from its earliest project conception to its off-Broadway opening and The Off-Broadway Original Cast Album.