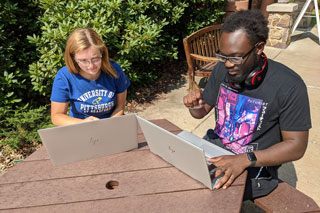 Seven University of Pittsburgh at Bradford students followed one of their professors into the world of work for an internship this summer.
Jeremy Callinan is an independent information technology contractor and adjunct instructor at Pitt-Bradford in its computer information systems and technology class.
Earlier this year, Callinan's client AR Trucking in Warren approached him about helping with updating software and its outdated payroll system.
"They were upgrading all of their information technology so that a new finance director could come in and understand it, and I was helping them through that process," Callinan said. "They asked if I knew any Pitt-Bradford students who knew about Excel, Microsoft Office and IT stuff. I said, 'Yeah, I know a whole bunch.'"
Callinan enlisted three students to work on the project. They all have been working remotely for the most part with the occasional visit to meet with a client. 
"It was pretty cool to use what we've been doing in class," said Edem Agbemabiese, a senior from Williamsport. Students appreciated the chance to use their classroom learning in a real-life setting, and also feel they will be able to transfer what they learned over the summer back to the classroom.
Agbemabiese learned something else, which was that he enjoyed the personal interaction with a client.
"Actually going there and being in person made it feel a lot more personal," he said. Taylor Tyczka, a senior from Cowlesville, N.Y., echoed his comment. She made the trip from her home to Warren several times to meet with AR Trucking.
"It definitely adds to the work when you get to meet the client," she said. "It's something a lot of us haven't been able to do in the last year."
While the two students enjoyed working with their client in person, the bulk of the work they did for them was virtual, as well as weekly virtual meetings with Callinan about their projects. Since even small businesses are now taking advantage of using remote storage and software housed on remote server farms (also referred to as "the cloud"), tasks such as updating the company's computers to a new version of Microsoft Windows could be handled from anywhere.
Tyczka said that classes she took before the internship that were especially helpful were Design and Management and Systems Analysis.
She said she used different diagrams and charts to break down the payroll project into steps and understand what was needed before the Pitt-Bradford team built a new system for the firm. Tyczka will spend her final semester on a capstone project involving database design and management. Since she lives in a rural area, she wants to make a mobile application for livestock management and the management of crops. Several local businesses from her home have begun calling her for help, she said, and she has thought about working for herself like Callinan does. 
"More people are living and working in the gig economy," Callinan said.
The second project he invited four students to help work on was creating a new safety website and videos for American Refining Group Inc. in Bradford.
Shiyou Ou, a junior from Port Allegany, worked on that project. His team developed a website and installed a server, then migrated the content of the company's former safety instruction website to the new one. There was a lot of problem-solving required, and that turned out to be the best part for Ou.
"Sometimes we had these weird errors, and that was fun to figure out," he said.
The end product will be a new website that will be used by contractors coming to work on site at ARG. The contractors will watch a video produced by the students, then have to pass a test.
Callinan noted that the new safety website replaces a prior version that was also created by Pitt-Bradford students.
Other computer information systems and technology students working on the ARG safety project were Joel Talladay, a sophomore from Columbia Cross Roads; Boaz Quinones, a junior from Byrnedale; and William O'Boyle, a senior from Mountain Top.
Craig Faris, a junior from Greensburg, also worked on the project with AR Trucking.
--30--