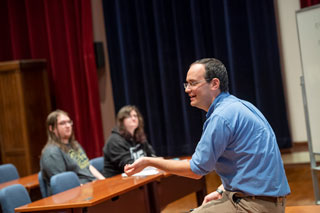 Dr. Joshua Groffman, assistant professor of music, will receive the University of Pittsburgh at Bradford's Chairs' Faculty Teaching Award.
Normally, the award is presented during the university's honors convocation ceremony, which will not happen in-person this year due to the coronavirus pandemic. Convocation had been scheduled for today.
Groffman is the director of Pitt-Bradford's music programs.
"In his five years at Pitt-Bradford, Dr. Groffman's exemplary teaching skills have allowed our music program curriculum to reach new heights, with strengthened existing courses as well as several new course offerings," said Jeff Guterman, associate professor of broadcast communications and chair of the university's Division of Communications and the Arts.
Guterman cited Groffman's creation of a music minor and pep band in 2018 as well as positive teaching reviews and making a point of connecting visiting musicians directly with students in a learning environment.
Additionally, Groffman is a prolific composer and active performer. Several performances planned for spring and summer have been postponed, most notably a June pre-premiere workshop of a new opera, "Halcyon." Groffman now expects that to take place in 2021.
Groffman has been working on the opera, commissioned by Vital Opera in the Hudson Valley, for five years with poet Sarah Heady. "Halcyon" has had two other pre-performance workshops in Millbrook, N.Y., and New York. Last summer, Groffman hosted a creative intensive at Pitt-Bradford, where the team worked to revise the structure of the opera.
"Halcyon" tells the story of Bennett College for Women in Millbrook, which closed in 1978. Groffman often takes musical inspiration from his environment. Exploring the decrepit remains of Bennett College near his hometown spurred his creation of the opera.
The June 2021 workshop will be funded by a University of Pittsburgh Central Research Development Fund Grant of $12,000.
Groffman recently received two other grants from the University of Pittsburgh. A $3,000 grant from the Provost's Initiative in Open Educational Resources is allowing him to develop online texts and resources for students.
In keeping with his interest in environmental soundscapes, Groffman received a $5,000 2020 Mascaro Center for Sustainable Innovation Faculty Lectureship that he is using to develop an ecomusicology course for Spring 2021.
"Ecomusicology is part of a genuine effort for the humanities to contribute to the awareness of the environment," he said. "My interest in it is something that I think would not have happened had I not taught at Pitt-Bradford. The campus and community are really centered around the outdoors, and my students have a real engagement with the outdoors."
The course will cover everything from activist music of Pete Seeger and others to preserving the sound of natural soundscapes – something he's been concentrating on during the current period of personal distancing.
Groffman said he has used part of his grant funds for recording equipment he is using to record the natural sounds of his in-laws' farm in the Hudson Valley -- uninterrupted by the sounds of automobile or air traffic.
Groffman's most recent live performances were of his original composition "Summer Wind(s)" last fall in Millbrook, N.Y., at the College of St. Rose in Albany, N.Y., and at the National Association of Collegiate Wind and Percussion Instructors in Cedar Falls, Iowa.
--30--