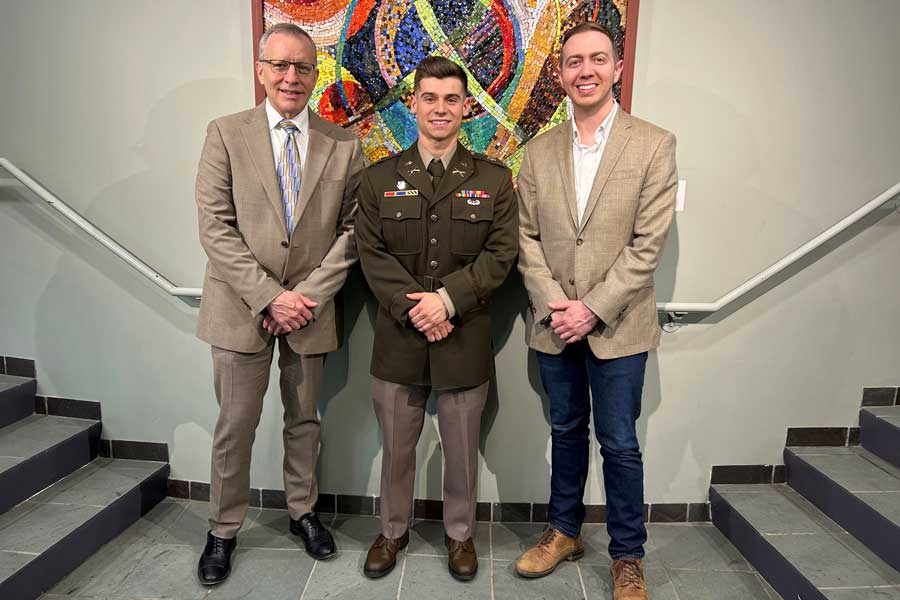 Nikolas R. Erickson, a spring criminal justice graduate of the University of Pittsburgh at Bradford was commissioned as a second lieutenant in the U.S. Army May 12 along with other cadets from the Seneca ROTC Battalion.  
The commissioning ceremony, held at St. Bonaventure University, was followed by the Silver Dollar Salute, a traditional event in which each newly commissioned officer hands a silver dollar to the first soldier who salutes them. Cadets choose someone who was instrumental in their upbringing, education or training for this honor. 
The Seneca Battalion includes cadets from St. Bonaventure, Pitt-Bradford and four other institutions. 
He commissioned as an infantry officer into the Pennsylvania Army National Guard as part of Charlie Company 1-112th Stryker Brigade Combat Team. He served as cadet battalion command sergeant major and cadet assistant operations officer. 
His lieutenant bars were pinned by his parents, Todd and Kristy Erickson of Bradford, Pa. Rendering his first salute was his grandfather, former U.S. Air Force Airman Richard Erickson. 
Erickson has also accepted a position as patrolman with the Allentown (Pa.) City Police. 
--30--