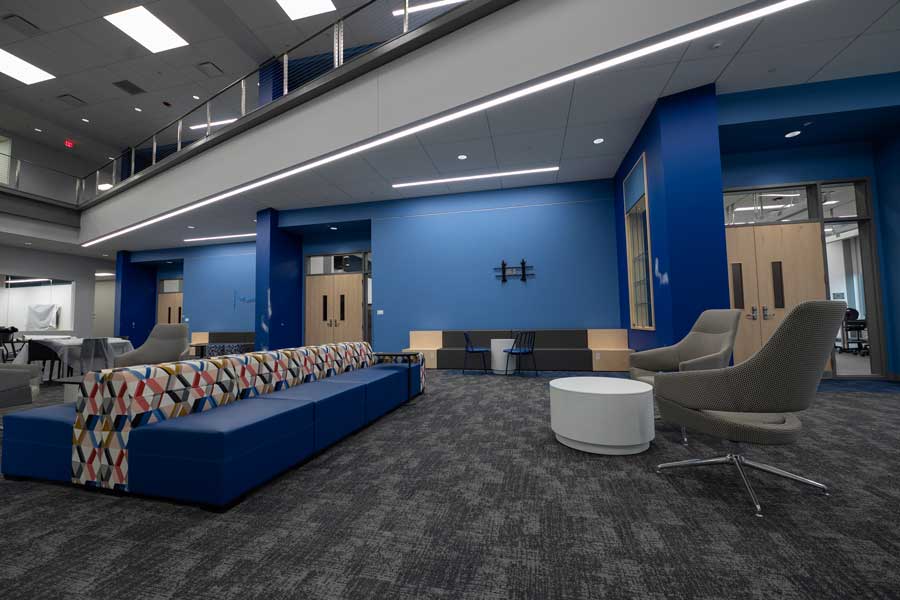 After more than a year of eagerly watching its construction, students and faculty at the University of Pittsburgh at Bradford started spring semester classes Monday in the George B. Duke Engineering and Information Technologies Building. 
The 39,000-square-foot, $24.5 million building is home to new engineering shops and labs, a virtual reality lab, networking lab, makerspace, large fabrication space, and communal areas full of places for students to work individually or together and gather before and after classes. 
The new building will be home to engineering, computing and energy programs, including two new four-year engineering technology programs. 
Dr. Michael Liu, assistant professor of mechanical engineering technology, was teaching his first class in the building, Mechanical Dynamics, on Monday morning to a few upper-level students: Nicholas Haner of Bradford, a senior mechanical engineering technology major; Mychal Berlinski of Allegany, N.Y., an energy engineering technology major; and Gus Napoleon of Allegany, a junior mechanical engineering technology major. 
Liu, who is in his first year teaching at Pitt-Bradford, is excited about the fluid dynamics lab where he will teach. "It's very exciting because it's very rare that you get to build a lab from nothing," he said. "All of the devices are brand new."  
The students were delighted by features both large and small. Haner noted the industrial-style architecture with exposed steel beams, 18-foot-high ceilings, and all-glass south-facing façade that captures warmth in the morning and contributes to the building's energy-efficient design. 
He and Berlinski had both attended larger engineering programs at other institutions before deciding to try the smaller classes in Pitt-Bradford's new engineering technology programs.  
"I also wanted something more hands-on," said Haner, who is particularly interested in using the Duke Building's makerspace and machine shop. The makerspace is a workspace where students can collaborate or work on individual projects. The space includes 3-D printing and scanning for rapid prototyping. The engineering students also enviously eyed the virtual reality lab full of Alienware computers. 
"I'm excited to see how our students will use our machine shop, makerspace and project spaces," said Dr. Matt Kropf, associate professor of engineering technology, who designed the new engineering technology programs. 
After class, Liu took his students to show off the first-floor fluid dynamics lab. After examining the multiple hydraulic benches and a hydrostatic and properties of fluids apparatus, Liu and his students tried out the furniture in the common and small-group work areas, giving the seats a bounce and electronically adjusting the height of workstations. 
Group work and relaxing can take place on padded steps, around a coffee-height table, on long couches, at high tables or in glassed-in rooms where laptops can connect to large displays. Faculty offices have more room to meet with students and sound-proof doors. The students were also enthusiastic about the second-floor kitchen. For new mothers, there's a lactation room with a sink. 
Liu paused in the sun-warmed south-facing study rooms. "I never expected the student space to be so luxurious," he said. "They can stay here all day long." 
All of this – classrooms, shops, labs, work rooms, faculty offices and kitchen, surround a two-story triangular atrium. 
At the end of the triangle on the second floor, a door leads to the new home for the university's technology services, which works closely with the computer information systems and technology program. Several technology staff members teach in the program, and some students in the IT program work for the tech office. 
The combination of the three areas – engineering, computer information systems and technology, and the campus technology office – combined with plentiful open and communal space and glass walls is meant to build a technology community in the Duke Building where engineering and computing come together in new collaborative ways. 
President Rick Esch has been intimately involved with the Duke Building's conception and construction over the past five years. 
"This new facility," he said, "was specifically built and equipped to provide students with hands-on learning opportunities that will prepare them to infuse their creativity, enthusiasm and innovation into the region and beyond." 
The public will have an opportunity to tour the new building during a special dedication to be held at 3 p.m. March 31.  
--30--