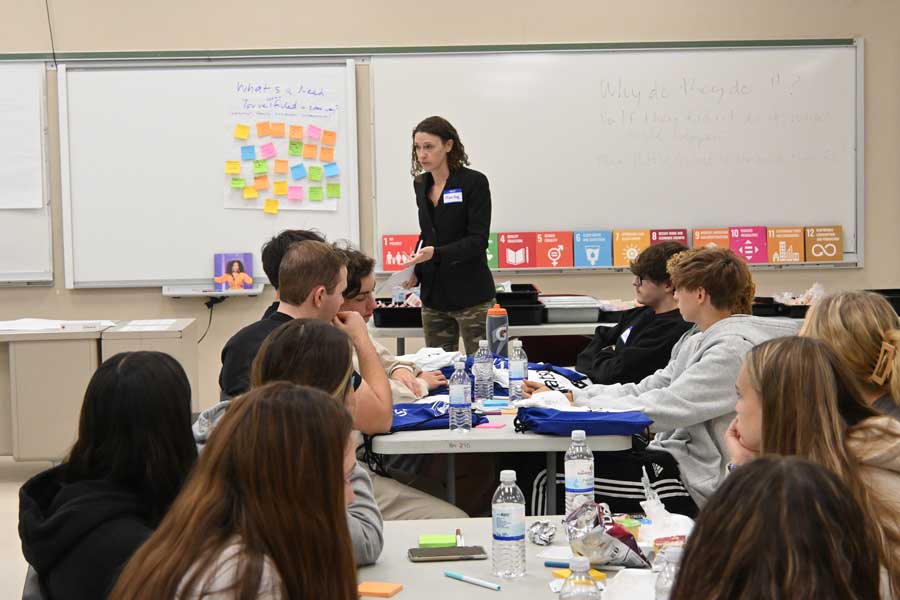 Colorado's Watson Institute is in Bradford this week teaching students at Bradford Area High School and the University of Pittsburgh at Bradford about social entrepreneurship as part of the Bradford Alliance's Social Entrepreneurship Week.
The week began and will end with sessions for students underwritten by the Halloran Foundation. Thursday featured the Alliance's Harvey L. Golubock Business Competition pitch event.   
Earlier this week, Watson facilitator Marte Siebenhar led a workshop of juniors and seniors at BAHS. Siebenhar told students that entrepreneurship means finding a need and filling it and that it does not necessarily mean inventing something or starting a business, although, of course, it can.
Using that definition, Siebenhar walked through exercises to see how they already act in entrepreneurial ways, what a societal need is that concerns them and how interconnected those problems can be.   
"This work is very layered and very nuanced," Siebenhar said. She also talked with students about developing their natural talents and passions to find career success.   
Over the weekend, Watson Institute will work with Pitt-Bradford students to model entrepreneurial processes. Thirty students will spend the weekend alongside mentors who are Pitt-Bradford alumni and members of the Bradford business community.   
On Friday, Pitt-Bradford students visited America Refining Group to ask questions about its business model before discussing the types of problems they see in the community, conducting a Root Cause analysis and proposing a prototype solution.   
Throughout the weekend, students will learn about business models, craft a mock pitch, workshop their ideas with local mentors, and hear from Pitt-Bradford alumnus Kamron Khodjaev '12-'15, co-founder of KOOP Technologies, an insurance technology company for autonomous vehicles and robotics based in Pittsburgh.   
This is the second year Pitt-Bradford has hosted the Watson Institute. It is the first year for the high school portion of the visit, both sponsored by the Halloran Foundation. Many of those serving as mentors have returned from last year.    
The weekend ends Sunday with a pitch competition and the awarding of $150 gift cards for members of the winning team.
--30--