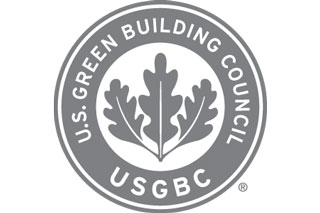 The University of Pittsburgh at Bradford's newest residence hall, the 170-bed Livingston Alexander House, has earned silver-level LEED certification from the U.S. Green Building Council, the first building on the campus to achieve LEED certification.
LEED (Leadership in Energy and Environmental Design) is green building certification that takes into account sustainability considerations that include green construction practices, water and energy efficiency, and more.
"It's about caring for the environment," said Rick Esch, vice president of business affairs, about the campus's latest construction meeting LEED standards. "Climate change is real. When you build sustainable buildings, it benefits the environment, the health of residents and the health of those constructing and making the materials that go into a LEED-certified building."
Alexander House, which was completed and dedicated in 2018, was constructed from concrete and lumber from forests certified in sustainable forestry practices.
High-efficiency heating, ventilating and air conditioning as well as thermal glass and insulation reduce the building's energy consumption by 30% over standard construction. Additionally, the power supplied to Alexander House comes from renewable resources.
The construction process created as little waste as possible. The demanding standards of LEED required that even the waste headed to the landfill be measured. Anything that could be recycled was sorted for recycling.
Occupied since the fall of 2018, the building has bike storage for students and parking places for electric vehicles. Plumbing fixtures in the building consume less water.
Paint and carpets used inside the building emit a low amount of organic compounds as do the furnishings made from recycled materials.
"Between 10% and 100% of the materials used in all of the furniture is from recycled materials or can be recycled," said Rhett Kennedy, director of auxiliary services.
Even the cleaning supplies used in the residence hall must meet strict standards.
Esch said the university's goal is to achieve LEED status for all new construction on the campus, including a planned academic building to house the new engineering technology and energy engineering technology programs.
--30--