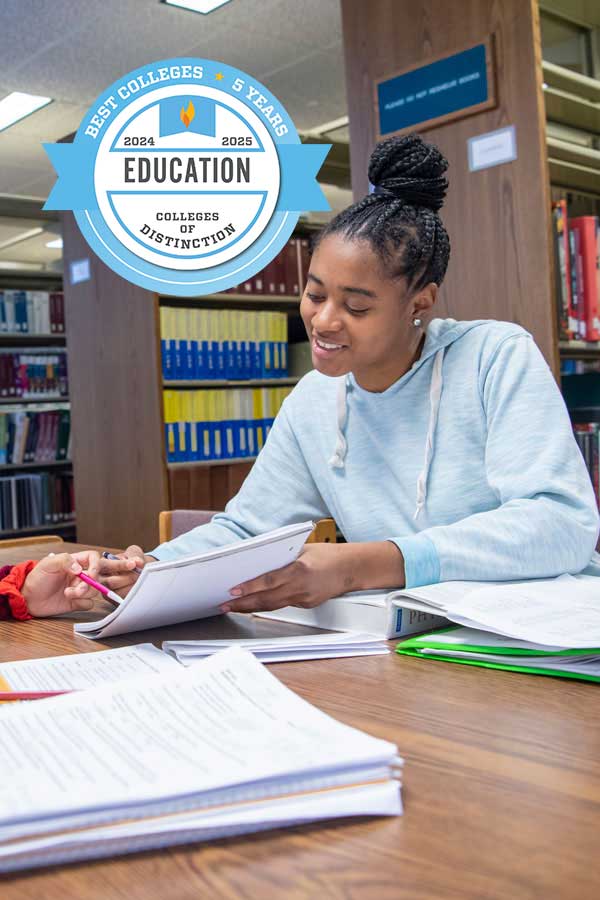 Social Studies Education 7-12 - BS
Get the education and preparation you need to teach social studies to your own classroom.
WHY STUDY SOCIAL STUDIES EDUCATION?
As a social studies education major, you will take all the necessary education and social studies-related courses to prepare you to lead your own classroom. But, it won't be all classroom work. You'll get hands-on experience while learning from professors who have real classroom teaching experiences teaching pre-kindergarten through 12th grade.
WHAT WILL I LEARN?
You'll start by observing teachers in action. Then you'll assist teachers with various tasks and lessons. During the next step, you'll start writing lesson plans and teaching those lessons in the classroom. All of this will prepare you for student teaching.
WHAT CAN I DO WITH A DEGREE IN SOCIAL STUDIES EDUCATION?
When you graduate, you'll be prepared to earn your teacher certification. Most of the students in our program seek teacher certification in Pennsylvania or New York.
Employers:
Public schools
Private schools
Charter schools
Community colleges
Magnet schools
Early childhood care centers
Public service organizations
Business training centers
Libraries
Featured Courses in This Program
EDUC 1334

Course 1 Name

Literacies Across The Middle And Secondary Curriculum

Course 1 Description

The course introduces and engages students in strategies that address literacies for 21st century learners in middle and secondary content areas. Focus areas include assessments, strategies for pre-reading, during reading and post-reading, writing, technologies, critical thinking, and creating literary environments in middle and secondary classrooms. The course includes a PDE required field component. Prerequisite: admission to the education program

EDUC 0275

Course 2 Name

Adolescent Literature

Course 2 Description

This course prepares a student to develop a reading program for an individual or a class in a secondary school and to prepare the student to teach fiction, poetry, and drama in the classroom. The course should be of particular interest to present and future teachers. We will read classics as well as modern works written specifically for an adolescent audience. We will also read and discuss sociological and psychological studies of adolescents and books on pedagogy.

HIST 0105

Course 3 Name

Europe In The 20th Century

Course 3 Description

In this course Europe on the eve of WWI is presented to show how Europe was drawn into the conflict; the war is discussed and the Treaty of Versailles is closely examined to discover if later European developments were directly traceable to that treaty. England and France are studied to see why appeasement (1938) was their only solution to international pressure. The rise of fascism in Italy, Germany, and Spain, and the establishment of communism in Russia are also discussed. The course ends with the outbreak of WWII.

EDUC 1301

Course 4 Name

Instructional Technology

Course 4 Description

Students will apply theories, research, and current practices pertaining to the utilization of various forms of technology in curriculum and instruction. This will include modifying instruction to meet the needs of diverse learners, creating a positive learning environment, increasing motivation and engagement, and the role of technology in student assessment.
You will need to formally apply to be admitted to the teacher certification program after you complete 48 credits. Admission to the program does not guarantee certification, but our program is designed to help teacher candidates meet the Pennsylvania Department of Education teacher certification requirements.
Requirements for admission include successfully passing the appropriate basic skills assessments, maintaining a 3.0 overall GPA and receiving no lower than a C- in any course required in the major. You will need to submit three letters of recommendation as well as a Career Goals Statement.
The education at Pitt-Bradford was top-notch. It prepared me for graduate school perfectly. Evan Greening '17, head boys' basketball coach at Brentsville District High School in Nokesville, VA.