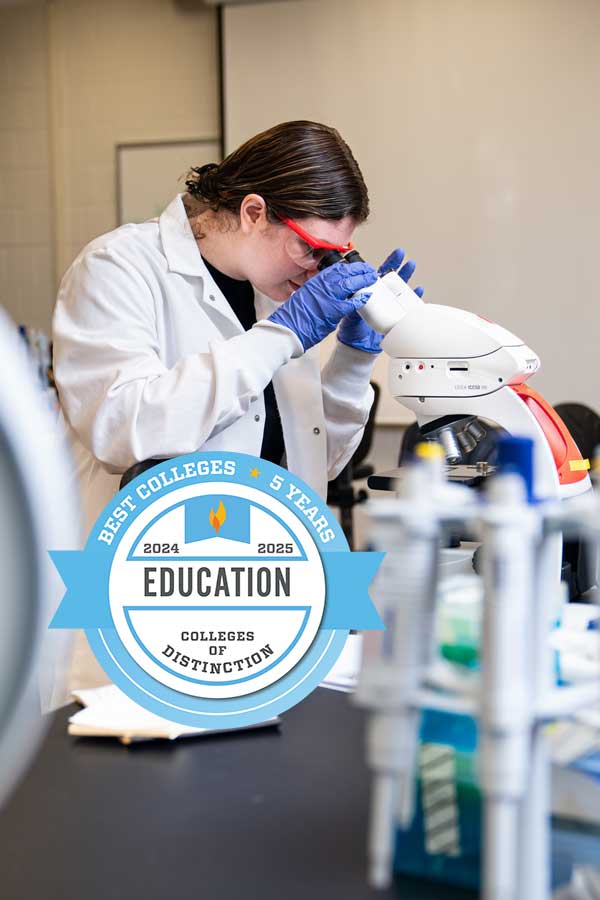 Biology Education (7-12) - BS
Our program will prepare you to teach your own classroom full of budding biologists.
WHY STUDY BIOLOGY EDUCATION?
As a biology education major, you will take all the necessary education and biology courses to prepare you to lead your own classroom. But, it won't be all classroom work. You'll get hands-on experience while learning from professors who have real classroom teaching experiences teaching pre-kindergarten through 12th grade.
WHAT WILL I LEARN?
You'll start by observing teachers in action. Then you'll assist teachers with various tasks and lessons. During the next step, you'll start writing lesson plans and teaching those lessons in the classroom. All of this will prepare you for student teaching.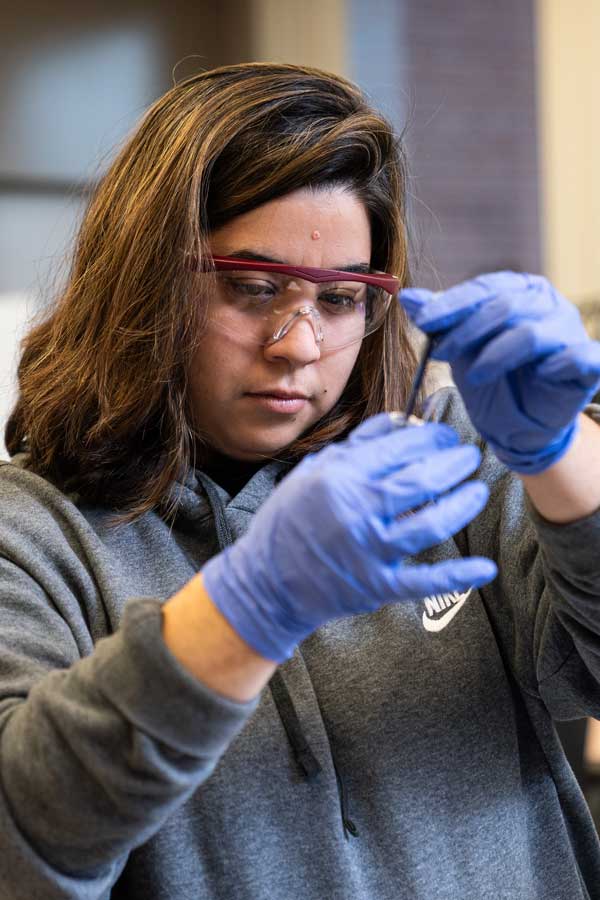 WHAT CAN I DO WITH A DEGREE IN BIOLOGY EDUCATION?
When you graduate, you'll be prepared to earn your teacher certification. Most of the students in our program seek teacher certification in Pennsylvania or New York.
Employers:
Public schools
Private schools
Charter schools
Community colleges
Magnet schools
Early childhood care centers
Public service organizations
Business training centers
Libraries
Featured Courses in This Program
BIOL 0203

Course 1 Description

Introduces the basic principles of inheritance including classical Mendelian Genetics, Molecular Genetics and Quantitative Genetics.

BIOL 0217

Course 2 Name

Principles Of Ecology And Evolution

Course 2 Description

Introduces basic principles of ecology and evolution, in addition to basic principles of experimental design, sampling, and statistics. Topics that will be covered include organismal, population, and community ecological principles, and micro evolutionary and macro evolutionary processes.

EDUC 1334

Course 3 Name

Literacies Across The Middle And Secondary Curriculum

Course 3 Description

The course introduces and engages students in strategies that address literacies for 21st century learners in middle and secondary content areas. Focus areas include assessments, strategies for pre-reading, during reading and post-reading, writing, technologies, critical thinking, and creating literary environments in middle and secondary classrooms. The course includes a PDE required field component. Prerequisite: Admission to the education program.

EDUC 1301

Course 4 Name

Instructional Technology

Course 4 Description

Students will apply theories, research, and current practices pertaining to the utilization of various forms of technology in curriculum and instruction. This will include modifying instruction to meet the needs of diverse learners, creating a positive learning environment, increasing motivation and engagement, and the role of technology in student assessment.
MORE TO KNOW
You will need to formally apply to be admitted to the teacher certification program after you complete 48 credits. Admission to the program does not guarantee certification, but our program is designed to help teacher candidates meet the Pennsylvania Department of Education teacher certification requirements.
Requirements for admission include successfully passing the appropriate basic skills assessments, maintaining a 3.0 overall GPA and receiving no lower than a C- in any course required in the major. You will need to submit three letters of recommendation as well as a Career Goals Statement.
The program offered a variety of engaging courses and invaluable experiences in the dynamic field of biology. Gloria Gertsch '19