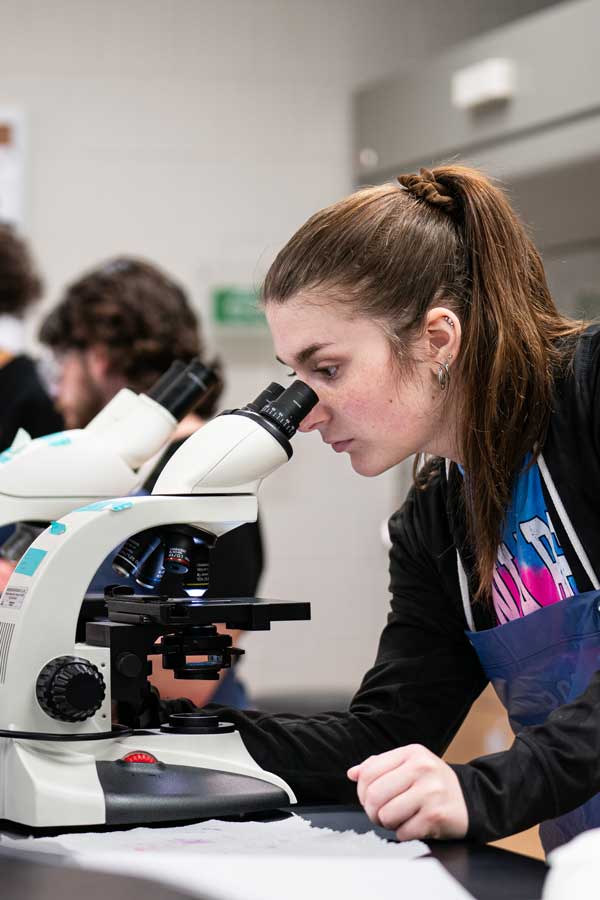 Biology - BS
If you want to do more than just live life, become a biologist and study it.
WHY STUDY BIOLOGY?
Biologists have exciting and rewarding careers in areas such as medicine, biotechnology, and environmental conservation and management. Biologists study living things to understand how they function, survive, and evolve. They may study bacteria and viruses that threaten human health or larger organisms such as red-spotted newts or brown bears. Whatever the scale, biological research increases our understanding of health and wellness and the threats to our environment.
You'll get a strong and broad foundation in life sciences by learning the full range of biological topics, from DNA and cells to whole animals and ecosystems.
WHAT WILL I LEARN?
You'll gain hands-on experience. Work as an intern, shadow a physician or health care worker at a local hospital. Interact with local health and environmental agencies. Take summer field courses at Pymatuning Laboratory of Ecology on topics such as wildlife biology, reptiles and amphibians. Gain environmental skills in neighboring Allegheny National Forest and nearby aquatic natural habitats. You'll also develop research skills when you choose a topic and work closely with your professor on your two-semester capstone experience, then get the chance to present your research at a local scientific meeting.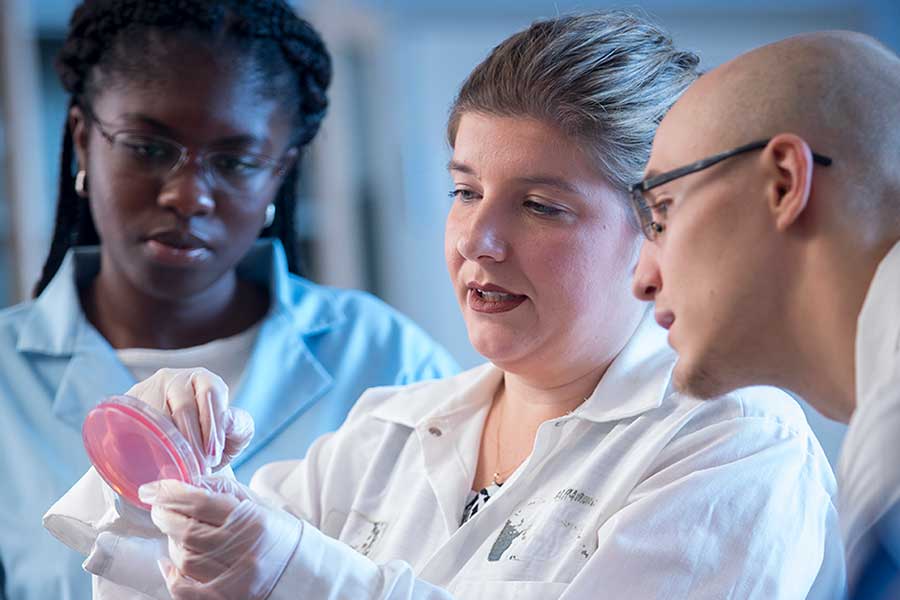 WHAT CAN I DO WITH A DEGREE IN BIOLOGY?
All of these experiences as well as our strong curriculum will prepare you for a job, graduate school, medical school or other professional careers. Our Pre-Health Professions Committee will work with students pursuing health-related careers, including giving them tips after conducting mock interviews.
Job titles:
Assistant radiographer
Biological researcher
Dietetic and nutrition technologist
Laboratory technologist
Medical scribe
Pharmaceutical researcher
Graduate schools:
University of Pittsburgh Medical Center
West Virginia University School of Pharmacy
Johns Hopkins University's Bloomberg School of Public Health  
Lake Erie College of Osteopathic Medicine
Rowan University School of Osteopathic Medicine
Queens University
University of Buffalo/Roswell Park Cancer Institute
Drexel University College of Medicine
Paris Descartes University
Thomas Jefferson University College of Pharmacy 
Featured Courses in This Program
BIOL 1440

Course 1 Name

Cancer Biology

Course 1 Description

Discovering a cure for cancer has been one of the most difficult challenges for modern biomedical science. This class will discuss what causes cancer, what makes cancer cells different from normal cells, and what avenues for the future treatment of cancer look promising. The scientific process and a discussion of experimental techniques used in modern cancer research will be emphasized.

BIOL 1306

Course 2 Name

Neurobiology

Course 2 Description

The biology of nervous systems will be studied at various levels, including the cellular and molecular biology of neurons, sensory systems, motor control, and higher cortical functions in humans. All topics are viewed across phyla and from an evolutionary perspective. The course will emphasize scientific reading and oral communication of scientific material. Three hours of lecture and four hours of lab per week.

BIOL 1312

Course 3 Name

Global Ecology

Course 3 Description

This course will expand on community and ecosystem scale patterns and processes, and their application at the global scale. The course will emphasize understanding these ecological processes and emergent patterns in the context of exponential growth of human populations, coupled with the subsequent and inevitable environmental issues. Some of the topics we will consider include demands on resources, sustainable agriculture and development, pollution, and global warming. This course will require regular reading of the primary literature coupled with in-class discussions.

BIOL 1405

Course 4 Name

Population And Conservation Biology

Course 4 Description

Introduces population analysis and genetics through a conservation biology approach. In addition to basic population-level topics such as demography, mating systems and life histories, students will also consider what maintains population viability, the concept of meta populations and the issues surrounding conserving biodiversity.
The tight-knit biology department has given me the tools to succeed. Devonte Sadler '18, a student at Drexel University College of Medicine
MORE TO KNOW
Future doctors may streamline their acceptance into medical school via our Freshman Guarantee at the University of Pittsburgh Medical School. Future doctors, dentists, and optometrists may be able save a year of study and tuition by enrolling in our special 3 + 4 programs with Lake Erie College of Osteopathic Medicine, Pitt's Dental School, or the Pennsylvania College of Optometry.