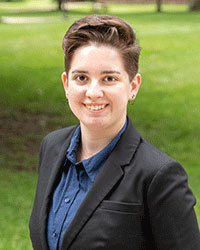 Degrees and Credentials
B.A. Journalism, Penn State University, 2020
Short Bio
Sydney works to plan and produce engaging content for the audiences of Pitt-Bradford's social media channels. She keeps up-to-date with the latest social media trends, implements and adjusts social media campaigns and works with faculty and staff across campus to ensure effective use of Pitt-Bradford's platforms.
Before joining the Pitt-Bradford team, she served for a couple years as the newsroom intern for her hometown newspaper, The Derrick and The News-Herald in Oil City, and since then has also contributed to The Titusville Herald, The Warren Times-Observer and The Pittsburgh Post-Gazette among other publications as a freelance photojournalist. During her junior and senior year of college, she worked as the photo division executive for CommAgency, Penn State's student-run media production agency, as well as the photojournalism lab assistant for the Penn State Donald P. Bellisario College of Communications.
In her occasional spare time, Sydney is either taking pictures, reading, running, volunteering or hiking a trail in the middle of nowhere. She is an avid sports fan and a longtime percussionist for bands and pit orchestras.
Research, Accomplishments, and Publications
Sydney had the honor of serving as a staff photographer/videographer for Writing Wrongs, a literary journalism program based in Reading, Pa., for the 2019 "Outgrowing" issue based on stories from the LGBTQ+ community. She was also a participant in the 2018 Keystone Multimedia Workshop in Gettysburg, Pa. and traveled with the Penn State international reporting class in 2019 to share stories from Puerto Rico.