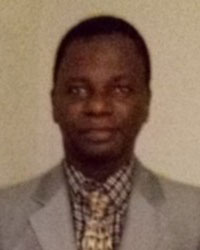 Degrees and Credentials
Ph.D. Computer Science and Engineering, University of Bridgeport, 2020
M.S. Telecommunications, George Mason University, 2009
Graduate Certificate In Telecommunications and Advanced Network Security, George Mason University, 2008
Short Bio
Samuel has enough industry and academia experiences. He worked as Network Security Engineer at Sprint for some years. He also worked as PhD researcher and Graduate and undergraduate teaching faculty at university of Bridgeport.
He has also worked as manager In Race Track Inc. for some years.
Academic Focus
Samuel has full control in teaching computer courses that include Computer forensics, Intrusion detection and Incidence response, Cryptography, Ethical hacking and Computer networks and many cybersecurity courses. This include Vehicular ad hoc networks, wireless sensor network, and concepts and practice of Cybersecurity. He is also knowledgeable and uses Artificial Intelligence, machine learning and deep neural networks, fog computing with cloud-based integration, optimization algorithms methods and techniques for his current project and teaching assignment.
Research, Accomplishments, and Publications
Prior to his doctoral education, Samuel worked for nearly a decade in USA in the Telecommunication industry, and field of academia in management roles with the last five years involving leadership and people management duties that included developing relevant materials for training and offering refresher courses (on-the-job training) to team members and students.
Samuel adopts a multi-disciplinary approach to researching in computer science and engineering and Cybersecurity disciplines. He has utilized innovative computer science and cybersecurity tools and data-driven investigation methods. Samuel's current research interest focuses on developmental algorithms in Wireless sensor and vehicular ad hoc networks investigation in cybersecurity, including Intelligent Transportation Systems for the government.