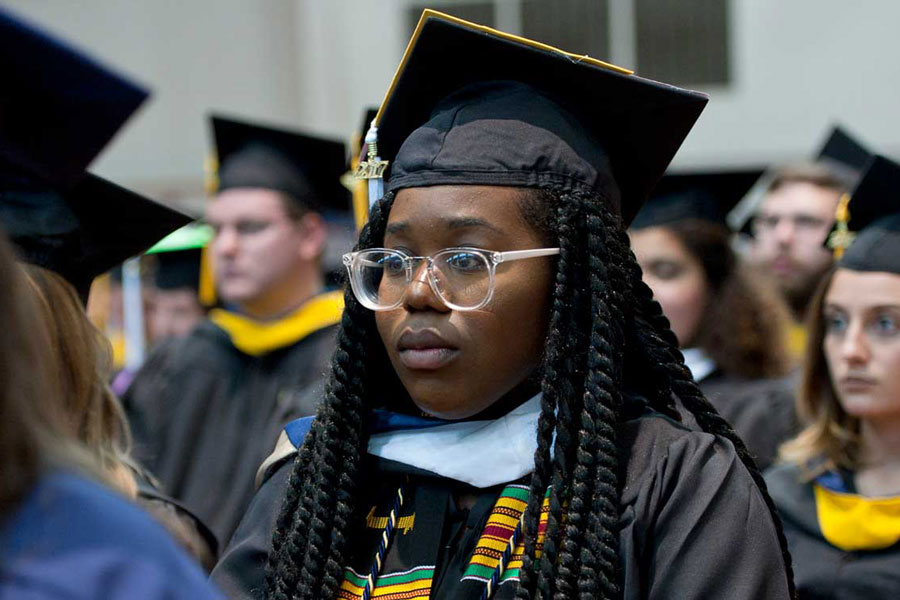 Graduation is not an automatic process. You must complete the online Graduation Application or contact the Enrollment Services Office to complete a Graduation Application before the deadline. The deadline is one or two terms prior to your intended graduation. Upon review and final approval by the Registrar, your graduation is authorized and your diploma is ordered. You must be in good financial standing with the university to receive your diploma.
NOTE: Your name on your Graduation Application must be identical to the way it appears on the university's student information system. You will be required to provide legal documentation to change your name. The acceptable documentation is a birth certificate, marriage certificate, divorce decree, formal court order or a valid passport.
Your diploma, along with a complimentary official copy of your final transcript, will be mailed to you at no charge about four weeks after the end of your term of graduation. We will use the address on your Graduation Application unless you change it. See the online printable Address Change Form. Check your transcript carefully. Any discrepancies should be brought to the attention of the appropriate office immediately.
If your graduation is postponed, you will need to reapply through the Enrollment Services Office by completing another Graduation Application.
Diplomas
Additional copies of your diploma may be purchased any time after graduation. Requests for additional diplomas can be made to Enrollment Services, 300 Campus Drive, Bradford, PA 16701.
The fee for each diploma, including mailing, is $15. The fee for Professional or University Honors College diplomas is $40. The reorder process takes about four weeks. Diplomas will be in the current style and font and bear the signatures of the current administrators.