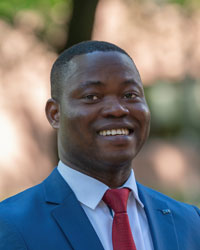 Degrees and Credentials
Ph.D. Economics, Northern Illinois University 2021
MSc. Statistics, Northern Illinois University 2021
M.A. Economics, Northern Illinois University 2018
MBA Finance, Ghana Institute of Management and Public Administration (GIMPA) 2013
B.A. Economics, University of Ghana 2006
Academic Focus
Godwin leverages his industry experience and multi-disciplinary academic training in Economics, Statistics, and Finance in educating students by developing and teaching courses emphasizing critical linkages between Economics and daily real-world decision making by individuals, organizations, and governments. He currently teaches Macroeconomics (Introductory and Intermediate), Money & Banking, Statistical Methods, Poverty & Society, and Selected Topics in International Development & Development Economics.
Research, Accomplishments, and Publications
Prior to his doctoral education, Godwin worked for nearly a decade in the Ghanaian banking industry in credit risk management roles with the last four years involving leadership and people management duties that included developing relevant materials for training and offering refresher courses (on-the-job training) to team members.
Godwin adopts a multi-disciplinary approach to researching applied microeconomic and macroeconomic policies, utilizing innovative statistical, econometric tools and data-driven methods. His current research focuses on developmental and environmental sustainability concerns that shape public and international policy, including conservation and distributional inefficiency issues in the exploitation of common-pool resources.