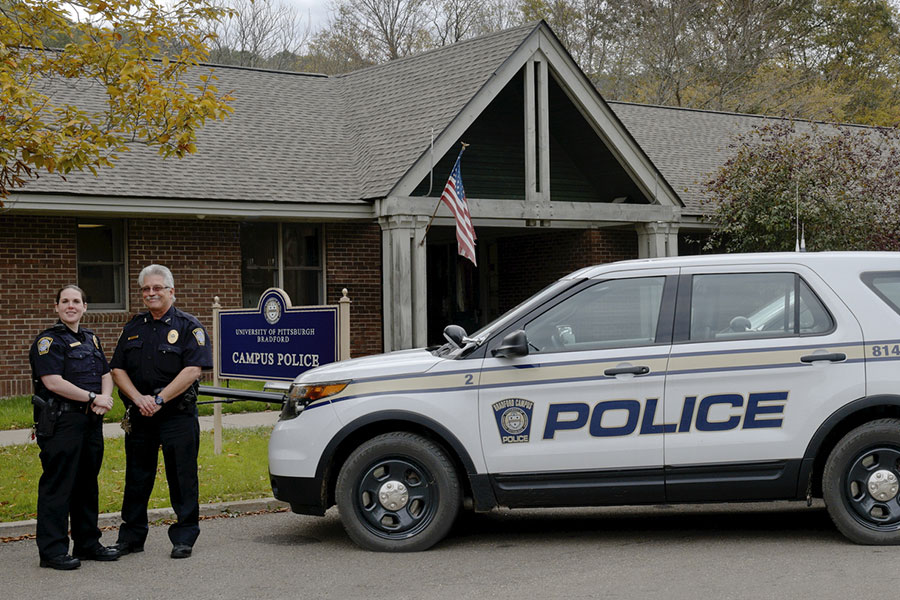 Your safety is the highest priority for our Campus Police Department. Our campus police officers are fully trained law enforcement officials and patrol our well-lit campus 24 hours a day. Officers also conduct safety seminars from time to time to teach you how to stay safe in various situations.
If you need to contact the department:
Call 814-368-3211 from any non-campus phone
Call 10333 from any campus phone
For non emergency calls please use 814-362-7500
Email Rich Harsen, our director of campus police & safety
Use one of the emergency phones located throughout campus.
Our Annual Security and Fire Safety Report includes safety tips and the Campus Police and Safety Statistical Report.
Drug-Free Schools annual notification
We also use an Emergency Notification Service and have a detailed Emergency Response Plan that details how we will respond to and notify you of an emergency. We created guidelines to help you respond to an on-going and immediate life-threatening incident. This video also offers suggestions on how to respond.
To stay current, our officers are members of various professional membership, including:
CAMPUS SECURITY AUTHORITY
The Clery Act requires the University of Pittsburgh to collect crime reports from a variety of individuals and organizations that Clery considers to be Campus Security Authorities. These include security and law enforcement officers; deans; coaches; residence hall staff; overseers and advisors to student clubs and organizations; and other campus officials who have "significant responsibility for student and campus activities," such as, but not limited to, student housing, student discipline, and campus judicial proceedings.
AED Map