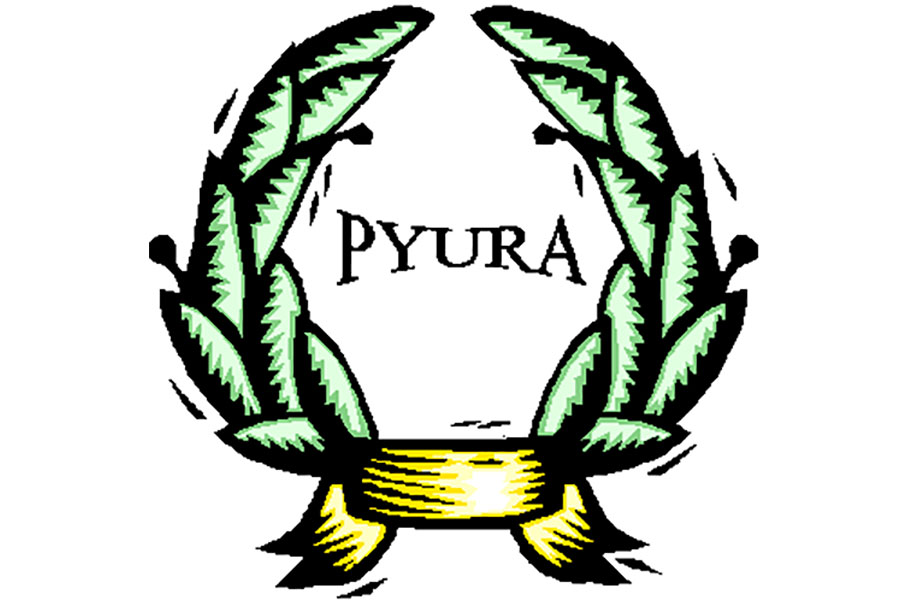 In this year of unexpected change and unprecedented events, few things have remained stable for many of us. Colleges and universities around the globe have had to transition between live, in-person classes to remote learning. Student and faculty research had to be reformatted, paused, or even arrested in these changing times. It is even more vital, then, to enjoy the things we have been able to hold stable, and to celebrate the successes we have had, despite the
adverse circumstances and challenges we have faced separately and together. 
PYURA was created to celebrate student scholarship. This year, this is more important than ever, and we are so proud of everything that these students have accomplished! By clicking on the portals below, you will be able to view student work in a variety of fields, from multiple institutions, conducted in a variety of modalities, and presented in pre-recorded oral or poster format. Please take time to enjoy the students' work. You will be able to access their work beyond our launch date of April 17, 2021, to encourage sharing in our celebration with as large an audience as possible.
View Poster presentations
A brief word of thanks:
Technical gurus Bernie Picklo and Jim Pascarella for making this beautiful website happen;
Dr. Catherine Koverola (President, Pitt-Bradford and Pitt-Titusville) and Dr. Emily Williams (Vice President and Dean of Academic Affairs, Pitt-Bradford) for their support in this endeavor;
Faculty research supervisors, as identified by the student researchers this year (alphabetically): Dr. M. Borchert; Dr. H. de Vries-Jordan; Dr. M. Dean; Dr. M. Kubal; Dr. R. McHugh, Dr. D. Piechnik; Dr. S. Robar; Dr. D. Schummer; Dr. N. Singh; Dr. A. Smith; Dr. E. Tillman; Dr. J. Truman; and Dr. A. Young Reusser;
and, of course, our student researchers, for all of your hard work!
--Rebecca and Warren
About PYURA 
The Penn-York Undergraduate Research Association is a loose assembly of colleges and universities across
Northern Pennsylvania and the Southern Tier region of New York state. We include active representation from students conducting work in a variety of fields, including:
Arts, including Graphic, Music, Performance, etc.
Business, Economics, Finance, etc.
Computational, including Mathematics, Programming, Software, etc.
Education (all levels)
Humanities, including Communication, History, Literature, etc.
Life sciences, including Biology, Medicine, Nursing, Sport & Exercise Science, etc.
Physical sciences, including Chemistry, Geology, Physics, etc.
Social sciences, including Anthropology, Criminal Justice, Political Science, Psychology, Sociology, etc.
and multidisciplinary programs such as Environmental Sciences, among others.
Traditionally held in the fall semester, this year the Covid-19 pandemic resulted in a delay until the spring 2021 semester, and a change of venue from live, in-person presentations to asynchronous virtual presentations. Eligible student works can include capstone and other applied research studies, literature reviews, research lab projects, literature reviews, and even class-based projects.
Member institutions:
Alfred University; Canisius College; Clarion University; Daemen College; D'Youville College; Hilbert College; Houghton College; Medaille College; St. Bonaventure University; University of Pittsburgh at Bradford, and University of Pittsburgh at Titusville.
 About Pitt-Bradford
Founded in 1963 as a regional campus of the University of Pittsburgh and set in the heart of the scenic Alleghenies, the University of Pittsburgh at Bradford provides affordable access to a distinguished four-year higher education. Pitt-Bradford offers high quality teaching supported by the resources of a world-class research university in a friendly, inclusive and student-focused academic environment. In service to our region and the Commonwealth of Pennsylvania, Pitt-Bradford connects communities to new ideas, innovative research and exciting arts and cultural programming, partnering with key stakeholders to build opportunities for continued regional development and growth.
At Pitt-Bradford, we are devoted to furthering student scholarship and research, with many of our majors requiring a Capstone project as a key part of the completion of students' baccalaureate degrees. Students can be found conducting hands-on research in a variety of physical science, life science, social science, and humanities programs, and summer scholarships are available annually to support students as they seek to broaden their educational experiences in mentor-assisted independent research.
View Poster presentations