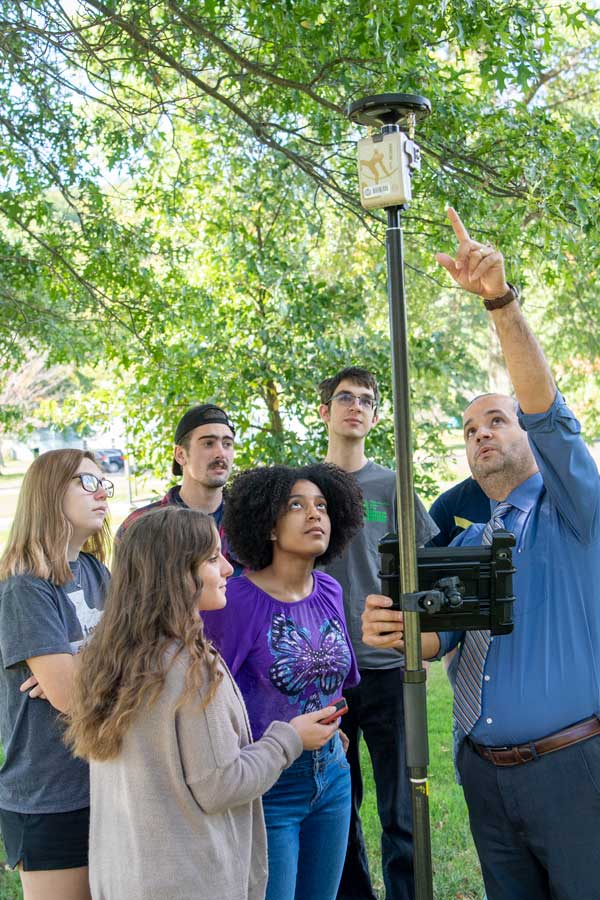 Petroleum Technology - AS
We currently are not accepting new students into this program for Fall 2022.
WHY STUDY PETROLEUM TECHNOLOGY?
The petroleum technology program will train you as a qualified petroleum technologist in the state of Pennsylvania and beyond whether you're already working in the industry or hope to be. Our newly modified program conforms to national standards and to the personnel needs of the local, regional, and nationwide petroleum industry.
You'll be part of a program that is unique to our part of the country. There are only a few petroleum technology programs in the northeast.
WHAT WILL I LEARN?
You'll gain an understanding of the petroleum industry, environmental and safety regulations, monitoring systems, the physics and mechanics of drilling and processing, and the chemistry and geology of hydrocarbons. You'll also take part in hands-on exercises and visit local gas and oil wells as well as area refineries.
WHAT CAN I DO WITH A DEGREE IN PETROLEUM TECHNOLOGY?
With your two-year pet tech degree, you'll be qualified for positions -- with competitive salaries -- such as wireline operator, environmental technician, geology technician or GIS technician.
Job titles:
Completions Technician
Control Center Operator
Field Service Technician
Wireline Technician
Junior Geologist
Fracking Technician
Well Services Technician
Drill Site Manager
Operations Technician
Well Control Technician
Employers:
State and Federal Government
Private Companies
Environmental Agencies
Featured Courses in This Program
PET 0206

Course 1 Name

Drilling And Completion

Course 1 Description

Drilling and Completion is designed to build student's knowledge on the process of drilling than completing a hydrocarbon well using new/modern equipment details, interpretive skills, technical and procedural details, economic considerations, variables to replicate realistic scenarios, and safety considerations. Topics will include, particularly, the equipment, processes, and techniques associated with well completions and workovers, directional drilling, and well stimulation. PET 106

PET 0103

Course 2 Name

Petroleum Geology And Geophysics

Course 2 Description

This course delves into the intricate world of petroleum geology and petroleum exploration (geophysics). Throughout the class students will learn about reservoir and source rocks, what caprock is and what role it plays within a sedimentary basin. Aspects of sequence stratigraphy and basin analysis will be broadly discussed. In order to find hydrocarbons underground, and to describe the rocks in which it occurs this class will tackle the wonderful world of geophysics. Using physical properties of the rocks recorded by electronic devices the history of hydrocarbons, and under which conditions it formed, can be understood. Prerequisites: GEOL 0101 and PET 0101.

PET 0208

Course 3 Name

Enhanced Hydrocarbon Recovery

Course 3 Description

This course provides an understanding of the enhanced hydrocarbon recovery methods used to produce fluids from old, low pressure, nearly depleted oil and gas wells. In class the latest procedures, practices, and equipment used in hydraulic fracturing and artificial lift operations will be discussed. Both surface and downhole mechanical components, and operational issues associated with enhanced recovery methods will be analyzed using traditional calculations and computer simulations. Perforation technology, rock fracturing mechanisms and fracture fluids are the backbone components of enhanced recovery so they will be treated in detail. Rod pumping, gas lift, plunger lift and other related methods of artificial lift will be covered using both theory and practical aspects. Prerequisite PET 0206.

PET 0209

Course 4 Name

Introduction To Supervisory Control And Data Acquisition

Course 4 Description

This course provides a basic understanding of the computer applications generally used to manage the operation of modern well sites and processing facilities. The course is designed to provide an introduction for SCADA-based data collection and automation systems, control of gathering lines, and supervision of processing facilities such as gas and crude oil refineries. Students will utilize software and hardware similar to the one used in by industry in an effort to deliver state-of-the-art background in these systems. The course will provide the knowledge to identify the various system components, redundant backup systems and recognize the benefits and limitations of a SCADA system. Students will be asked to sketch a SCADA system for an industry scenario. Prerequisites PET 0201 and PET 0203.
I cannot say enough about my positive experiences in the Pet Tech program. I highly recommend any student who has an interest in working in the energy business to look at this program. Justine Stephan-Cole '17 of Allegany, NY