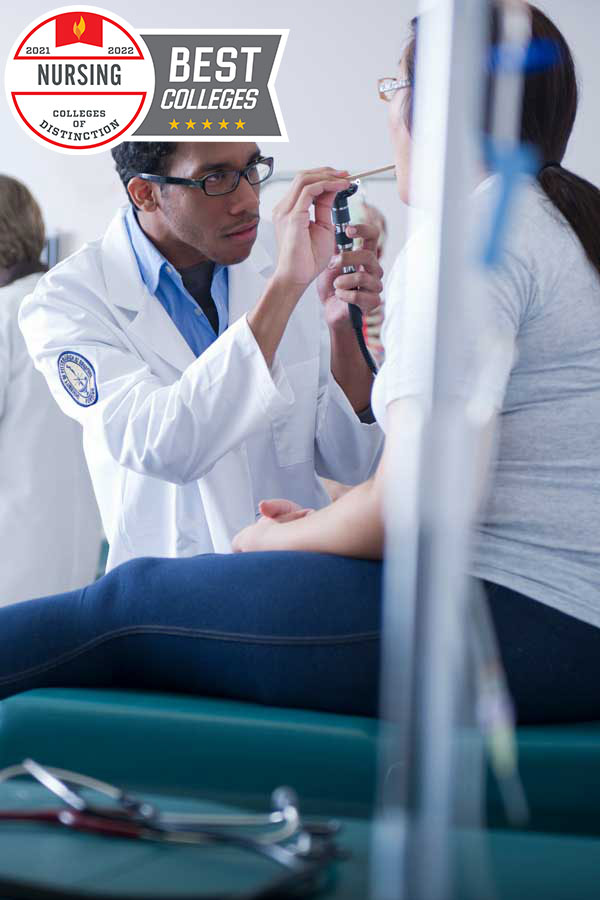 Nursing - BSN 1+2+1
Work one-on-one with patients in a variety of health care settings.
WHY STUDY NURSING?
Employment of registered nurses is projected to grow 12 percent from 2018 to 2028, much faster than the average for all occupations. Growth will occur for a number of reasons.
Demand for healthcare services will increase because of the aging population, given that older people typically have more medical problems than younger people. Nurses also will be needed to educate and care for patients with various chronic conditions, such as arthritis, dementia, diabetes, and obesity.
WHAT WILL I LEARN?
The 1+2+1 program is designed for students seeking the BSN degree or who were admitted as nursing majors but want to take a year of studies in required and elective courses before entering the ASN program.
In your first year, you'll take foundational courses that meet our graduation requirements, including courses such as Anatomy & Physiology, Psychology, and English. Students must earn a 2.75 overall GPA and meet the criteria for admission to the ASN program.
In years 2 and 3 students complete all courses in the ASN program. After successfully completing the coursework, they take the RN licensure exam.
In year 4 students take RN-BSN courses leading to the BSN and graduate with that degree at the end of the fourth year.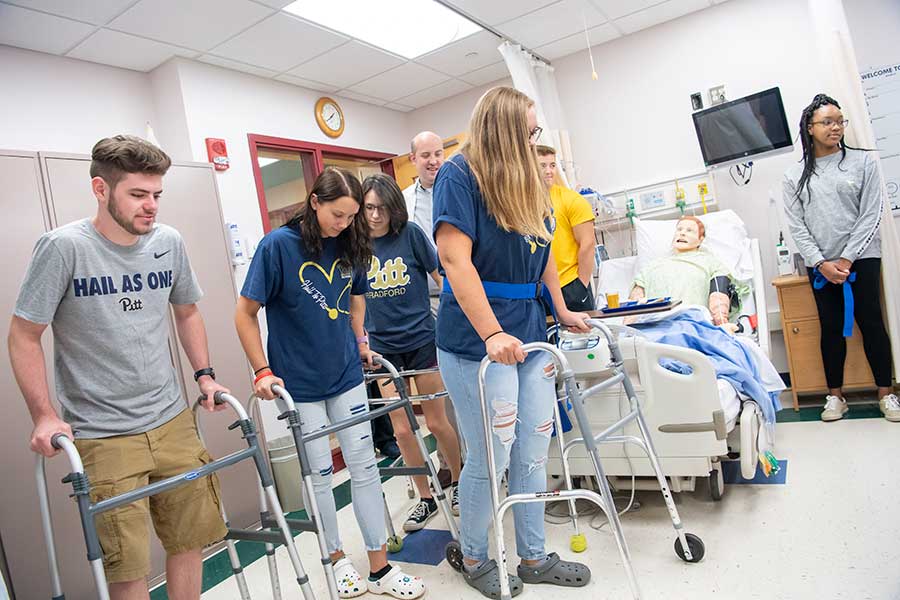 WHAT CAN I DO WITH A DEGREE IN NURSING?
At the completion of the spring term of the third year, you will have completed coursework required for the ASN degree and be eligible to take the RN licensure exam. In your fourth year, RN students are provided coursework and clinical experiences that help to expand the professional nursing role with a focus on nursing research, community health, and leadership development.
Job titles:
ICU nurse
Charge nurse
Gynecology/obstetrics nurse
ER nurse
Hospice nurse
Psychiatric nurse
Oncology nurse
Urology nurse
Employers:
Hospitals
Physicians' offices
Nursing homes
Hospice care
Home health care
School systems
Disability services
Nonprofit organizations
Featured Courses in This Program
NUR 1302

Course 1 Name

Professional Nursing Concepts

Course 1 Description

This course is designed to introduce the adult student to the educational environment at the university of Pittsburgh and the school of nursing. The organizing framework and nursing theories which serve as the structure for the curriculum and nursing practice are presented. The nursing process is discussed as the foundation for nursing practice. Critical thinking and decision making are introduced.

NUR 1402

Course 2 Name

Health Promotion/Health Assessment

Course 2 Description

This course presents the knowledge base and the skills for health promotion and health assessment of individuals across the lifespan. The role of the nurse in promoting patterns of positive health behaviors is emphasized. The student is provided with an opportunity to practice physical assessment skills. In addition, the course facilitates the RN learners adjustment to the stresses of the multiple role learner.

NUR 1404

Course 3 Name

Community Health Nursing

Course 3 Description

This course will provide learning experiences which focus on the role of the community health nurse in working with individuals, families, and groups in a variety of community settings. Students will explore community issues such as community assessment, screening, epidemiologic concepts and factors which influence the delivery of community health services. Health care needs of selected groups in the community will also be studied.

NUR 1310

Course 4 Name

Ethical Dimensions Of Professional Nursing

Course 4 Description

This course examines ethical issues from the perspective of nursing with a focus on principled behavior in personal and professional situations. Course content is focused on ethical theories and principles, values clarification, development, and decision-making, and the nurse's obligations related to ethical issues and dilemmas in professional practice.
You truly get a high-quality education. Zach Hadfield '17, ER nurse at UPMC Mercy in Pittsburgh
The Associate of Science nursing program at the University of Pittsburgh at Bradford at the Bradford and Titusville Locations located in Bradford, PA and Titusville, PA is accredited by the: Accreditation Commission for Education in Nursing (ACEN).
3390 Peachtree Road NE 
Suite 1400 Atlanta, GA 30326
(404) 975-5000
 
The most recent accreditation decision made by the ACEN Board of Commissioners for the Associate of Science in Nursing program is continuing accreditation.
 
The Bachelor of Science nursing program at the University of Pittsburgh at Bradford at the Bradford Location located in Bradford, PA  is accredited by the: Accreditation Commission for Education in Nursing (ACEN). 
3390 Peachtree Road NE 
Suite 1400 Atlanta, GA 30326
(404) 975-5000
 
The most recent accreditation decision made by the ACEN Board of Commissioners for the Bachelor of Science in Nursing program is continuing accreditation.
 
Additional Information:
Nursing students at Pitt-Bradford can earn the BSN degree in four years by completing the requirements for the ASN and RN-BSN program.
Effective December 9, 2021, the University Pittsburgh at Bradford's Associate Degree Nursing Program remains on the PA State Board of Nursing's Approved List of Professional Nursing Programs with Full approval status.
ASN graduates are required to take the national examination for registered nurse licensure (NCLEX-RN). A person with criminal convictions may be prohibited from licensure as a registered nurse by the boards of nursing in various states. Prospective students in that situation should call the board of nursing in the state where they plan to practice.
Our RN-BSN program has been awarded accreditation for achievement of quality and excellence in nursing education through spring 2020 by the Accreditation Commission for Education in Nursing, Inc., formerly the National League for Nursing Accrediting Commission (NLNAC), 3343 Peach Rd., North East Suite, Atlanta, GA 30326, phone: 404.975.5000; fax: 404.975.5020; or https://www.acenursing.org.
Admission Requirements:
Each year, we have limited seats available for students in the nursing major. Students admitted to the 1+2+1 completion track need to meet the requirements for admission to the university and the following additional requirements:
Successful completion of a minimum of 16 high school or beyond units including:
4 units in English
2 units in Mathematics (1 unit must be in Algebra)
3 units in Social Science
1 unit in Biology with a related laboratory
1 unit in Chemistry with a related laboratory
5 units academic electives
Prospective students will be admitted directly with a minimum cumulative high school grade point average of 2.75 and a minimum combined math and critical reading SAT score of 1110 (SAT tests taken March 2016 and later). . If you take the ACT, your composite score must be at least 22. Students failing to meet these criteria may be admitted to a preparatory program.
All applicants must arrange for all information to be released and sent to the Office of Admissions before any admissions decision can be rendered.
Each student admitted to the 1+2+1 completion program leading to the BSN degree start their studies at the University as a Pre-BSN major, taking courses that meet University graduation requirements. At the end of the first year of study, a student should have a 2.75 overall grade point average or better.
All students seeking admission to the AS-Nursing who are not currently enrolled at Pitt-Bradford, must contact the Admissions Office at 1-800-872-1787, or send an e-mail to admissions@upb.pitt.edu.
During the spring term of the freshman year, eligible students apply to the Nursing Unit for admission into the next phase of their nursing education.
The deadline for applications for the second phase of the 1+2+1 BSN Completion track is April 1. In order to be admitted, a student must be in good academic standing at the University and meet the requirements of the ASN program.
Because of limited numbers of openings in any given year, preference for admission is given to students who have performed well academically. In the past, this has meant that in general, students with a 2.75 or better overall grade point average who have completed the suggested first year of study at the University have been admitted. This may vary from year to year, however, depending on the number of applicants who apply for the available openings.
To progress to the final year of the 1+2+1 BSN Completion track, students must remain in good academic standing with a minimum overall grade point average of 2.5 or better and current Pennsylvania RN licensure.
Additional Information:
The University of Pittsburgh at Bradford, in cooperation with University of Pittsburgh graduate programs and other graduate schools, offers guarantees for graduate and professional schools.
ROTC-BSN students may receive three credits toward the upper level nursing electives upon successful completion of the ROTC Leadership Development and Assessment Course (LDAC) or the ROTC Nursing Summer Training Program (NSTP).
The curriculum offers numerous opportunities for practical hands-on experiences, with clinical instruction provided in the following local and surrounding agencies:
Bradford Manor
Bradford Ecumenical Home
The Pavilion at BRMC
Bradford Regional Medical Center
UPMC Cole
Penn Highlands Dubois
Penn Highlands Elk
UPMC Kane
Kane Lutheran Home        
Warren General Hospital  
Warren State Hospital
Dickinson Mental Health
Physicians' Offices
Childbirth Education Classes
Visiting Nurses' Association
George G. Blaisdell Elementary School
Canvas is the e-Education Platform employed by the University of Pittsburgh for course management and delivery.  Course materials are placed on individual course web sites.  A variety of tools (such as the ability to send documents electronically and access grades online), and the ability to communicate electronically through e-mail, discussion boards and chat may be used within the context of the course.