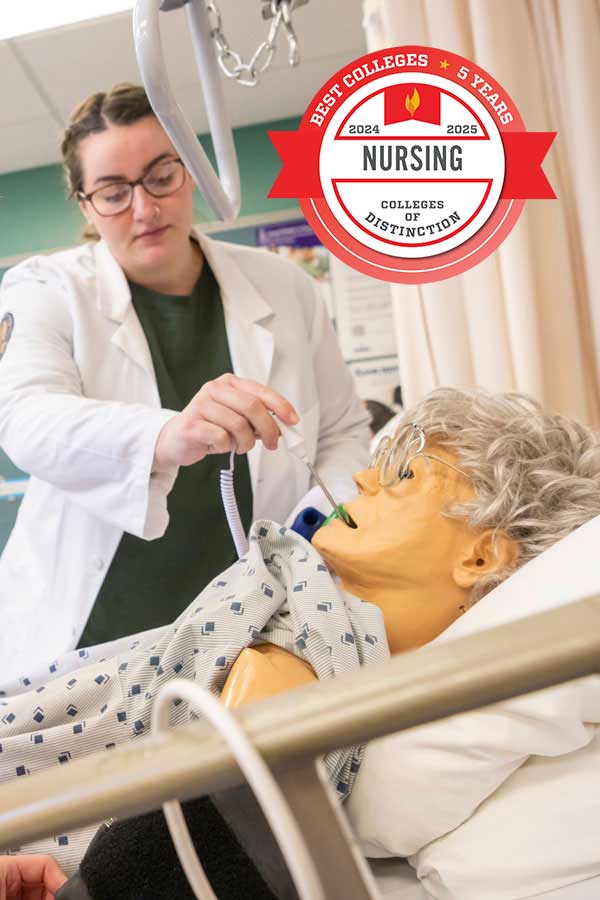 Nursing - RN-BSN
If you're a registered nurse, you can advance your education and your career by getting a bachelor's degree in nursing.
WHY STUDY NURSING?
Getting a bachelor's degree will give you the credentials you'll need to help you take a more supervisory and leadership role in many health care facilities.
WHAT WILL I LEARN?
You'll take a variety of courses. You'll also have many opportunities for hands-on experiences at various locations, including hospitals and doctors' offices and community health settings.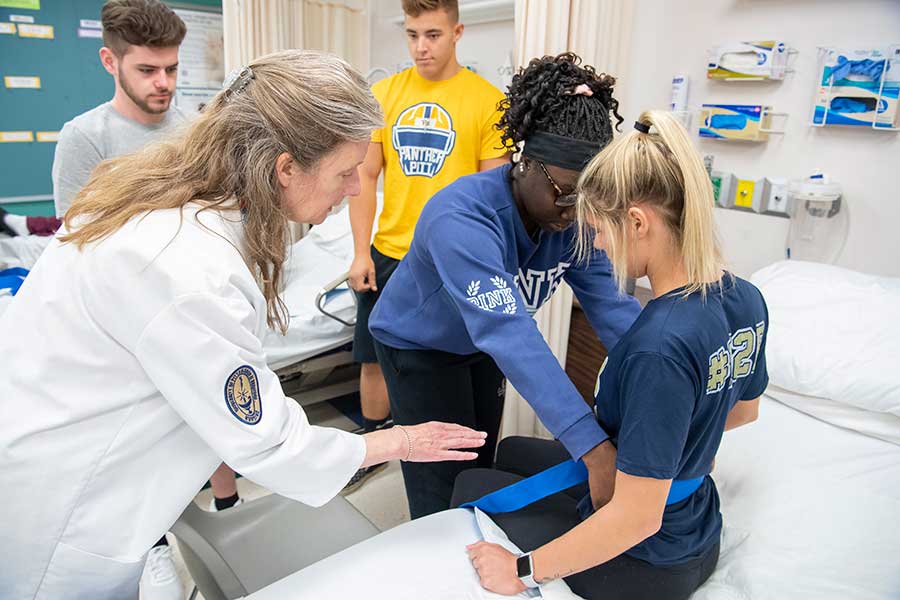 WHAT CAN I DO WITH A DEGREE IN NURSING?
When you earn your degree, you'll have the advanced skills you'll need to assume a leadership or management role.
Job titles:
ICU nurse
Charge nurse
Gynecology/obstetrics nurse
ER nurse
Hospice nurse
Nursing supervisor
Psychiatric nurse
Urology nurse
Employers:
Hospitals
Physicians' offices
Nursing homes
Hospice care
Home health care
School systems
Disability services
Nonprofit organizations
Featured Courses in This Program
NUR 1302

Professional Nursing Concepts

This course is designed to introduce the adult student to the educational environment at the university of Pittsburgh and the school of nursing. The organizing framework and nursing theories which serve as the structure for the curriculum and nursing practice are presented. The nursing process is discussed as the foundation for nursing practice. Critical thinking and decision making are introduced.

NUR 1402

Health Promotion/hlth Assessment

This course presents the knowledge base and the skills for health promotion and health assessment of individuals across the lifespan. The role of the nurse in promoting patterns of positive health behaviors is emphasized. The student is provided with an opportunity to practice physical assessment skills. In addition, the course facilitates the RN learners adjustment to the stresses of the multiple role learner.

NUR 1401

Introduction To Nursing Research

The student is introduced to the research process with focus on the role of the professional nurse as a consumer of research. Basic concepts and terminology of research method ology and analysis are presented. Students are given the opportunity to interpret and evaluate nursing research.

NUR 1310

Ethical Dimensions Of Professional Nursing

This course examines ethical issues from the perspective of nursing with a focus on principled behavior in personal and professional situations. Course content is focused on ethical theories and principles, values clarification, development, and decision-making, and the nurse's obligations related to ethical issues and dilemmas in professional practice.
MORE TO KNOW
Our RN-BSN program has been awarded accreditation for achievement of quality and excellence in nursing education through spring 2020 by the Accreditation Commission for Education in Nursing, Inc., formerly the National League for Nursing Accrediting Commission (NLNAC), 3343 Peach Rd., North East Suite, Atlanta, GA 30326, phone: 404.975.5000; fax: 404.975.5020; or https://www.acenursing.org.
Admission criteria for RN-BSN Program
 Completed Pitt-Bradford Admission Application
Official High School Transcripts
Official College/University Transcripts (all schools attended)
Copy of current Pennsylvania RN licensure
Licensure is required throughout your enrollment in the program
Minimum cumulative QPA of 2.5
35 credits of lower-level nursing courses (ASN or diploma) from an approved school
One of the following:
Graduation from an approved associate or diploma program within 3 years before being considered for admission to the RN-BSN program.
Graduation from an approved associate or diploma program more than 3 years ago but with evidence of at least 1,000 hours nursing practice within 3 years prior before being considered for admission to the RN-BSN program.
Blackboard Academic Suite is the e-Education Platform employed by the University of Pittsburgh for course management and delivery. Course materials are placed on individual course web sites. A variety of tools (such as the ability to send documents electronically and access grades online), and the ability to communicate electronically through e-mail, discussion boards, and chat may be used within the context of the course. 
Additional Information
The curriculum offers numerous opportunities for practical experiences with clinical instruction provided in the following local and surrounding agencies:
Bradford Regional Medical Center
Warren General Hospital
UPMC Cole
Home Health Care
Penn Highlands Dubois
PA State Health Department
UPMC Kane
Physician's Offices
Penn Highlands Elk
ROTC-BSN students may receive three credits toward the upper level nursing electives upon successful completion of the ROTC Leadership Development and Assessment Course (LDAC) or the ROTC Nursing Summer Training Program (NSTP).
Additional Information:  
The University of Pittsburgh at Bradford, in cooperation with University of Pittsburgh graduate programs and other graduate schools, offers guarantees for graduate and professional schools.
I made great relationships with my nursing professors. Chelsea Loney '19 RN at Warren (PA) General Hospital